Back in August 2019, I've completed a 21 x 19 inches (53 x 48cm), coloured pencil drawing of a Malayan Tiger (Panthera Tigris Jacksoni) "Bzui" and her female cub "Berisi" . (http://sharonsskow.com/2019/09/03/bzui-berisi/ )
I did this piece as my contribution to RIMAU http://rimau.ngo/, a Malaysian based Malayan Tigers conservation organisation. It was supposed to be auction off during the RIMAU fund raising gala dinner this year but unfortunately, because of Covid-19, everything was either postponed or put on hold till further notice. It is sad fact that because of the pandemic, crucial sources of funding for conservation work are rapidly dwindling, RIMAU included.
But last week, I received a wonderful news from RIMAU that they have received an extremely generous amount of donation.
From the ZOOM meeting I had with RIMAU members and the CEO of Perak State Park Corporation (PSPC) on International Tiger Day, 29th July 2020, we learned that said sum is enough to pay the salaries of the MENRAQ forest rangers for at least 3 years!!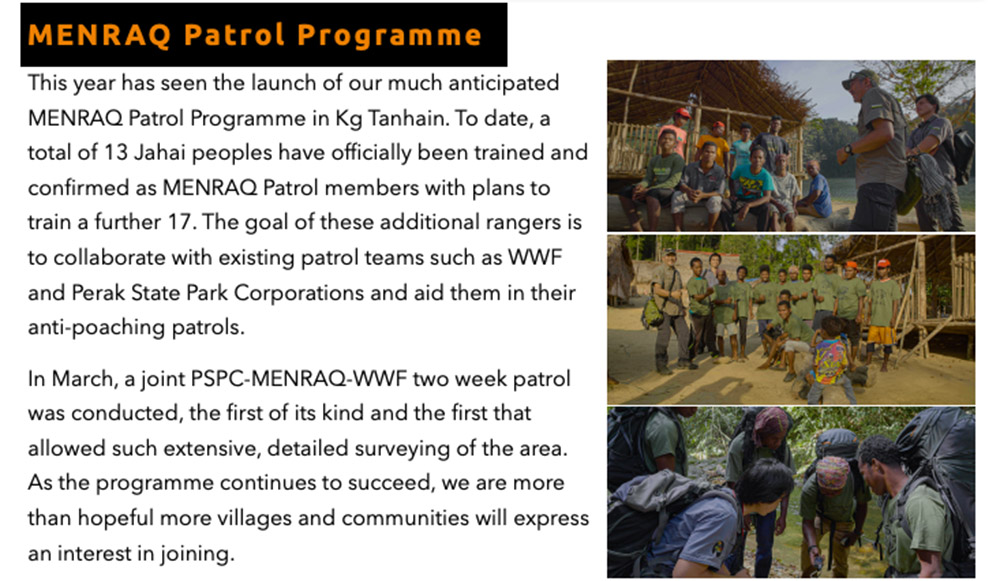 And as a token of gratitude for the generous contribution to RIMAU, the artwork of Bzui & Berisi was presented to Dato' Vinod and Datin Winy Sekhar by Lara Ariffin and David Hashim, the President and Vice President of RIMAU.
Needless to say, I am over the moon! It truly warm my heart to know that my artwork is appreciated both by the organisation and the generous donors.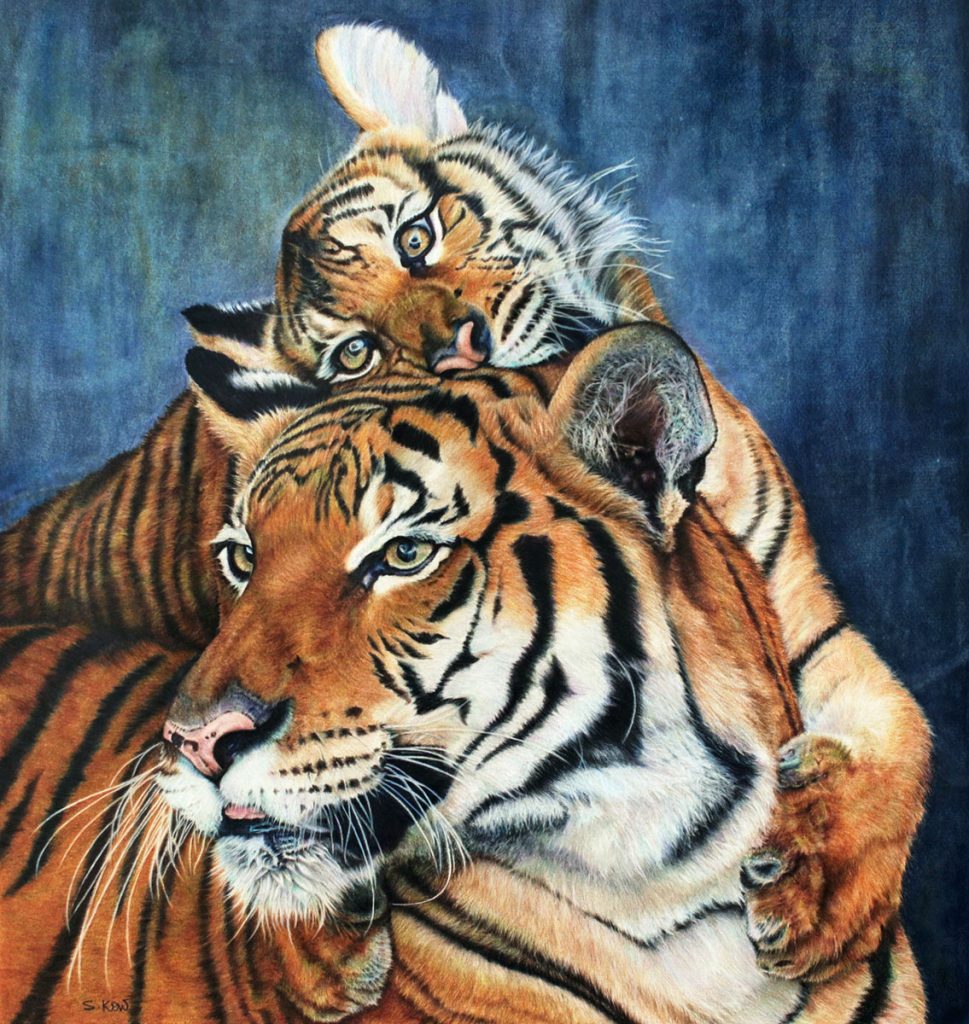 Now, on the other side of the globe, as suggested by my dear friend John Guiseppi, a giclee print of Bzui & Berisi was given to ZooTampa in Florida for their online fundraising auction in June 2020. And the winning bid was at $350USD!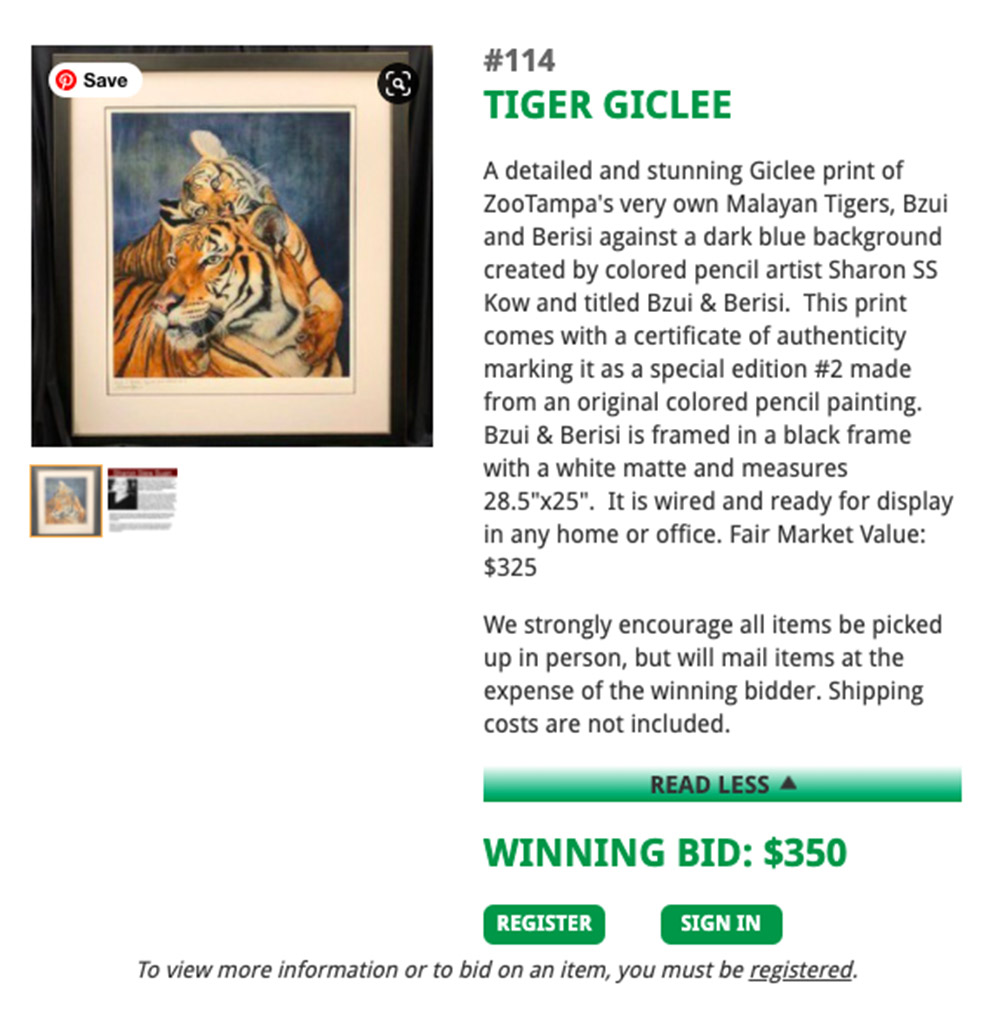 All these would not be possible without the generousity and kindness from everybody involved. I would not be able to produce this sweet portrait of the tiger and her cub without the consent from the photographer, John Guiseppi https://web.facebook.com/JohnGuiseppiArt/ .
Not only was he so kind to give me his permission to use his stunning photo as reference, he was also the one who approached ZooTampa, informed them of my purpose with this artwork and presented the giclee print for their auction event.
Looking back at this, it really restore my faith in human beings. There are many kind souls whom I personally know are truly devoted in making a change for the better. My contribution is nothing compared to what these people are doing for the cause. I could not contribute much in terms of $$$ and time and so, the best way I could is through art …..