Wild life paintings are something that I rarely do. The only reason that if I ever do any, it will be as a contribution piece to raise fund for a good cause.
This coloured pencil portrait of Bzui, and her cheeky daughter, Berisi, will be donated to a local Malayan Tigers conservation organisation http://rimau.ngo/ (RIMAU).
What I like most about RIMAU is that apart from their mission in advocating with various NGOs and government sectors in the conservation of the Malayan Tigers, their main core mission is working on the development and deployment of a well-trained workforce utilising primarily local Malaysians, especially the Orang Asli (indigenous peoples of Malaysia). With the proper tiger and forestry management practices, supported by appropriate laws and necessary enforcement, they can systematically patrol the forest, ensuring that threats to the well-being of Malaysian local tigers and wildlife are eliminated.
The minute I signed up as a member of RIMAU early this year, I knew that apart from contributing in monetary form (not much), I wanted to do more. Needless to think, it will be a painting of a tiger, in my case, tigers.
Now, I am no professional photographer so to get good photo references of this beautiful animal are quite impossible! I did contact a few of my local photographer friends for it but sadly, none of the them have it.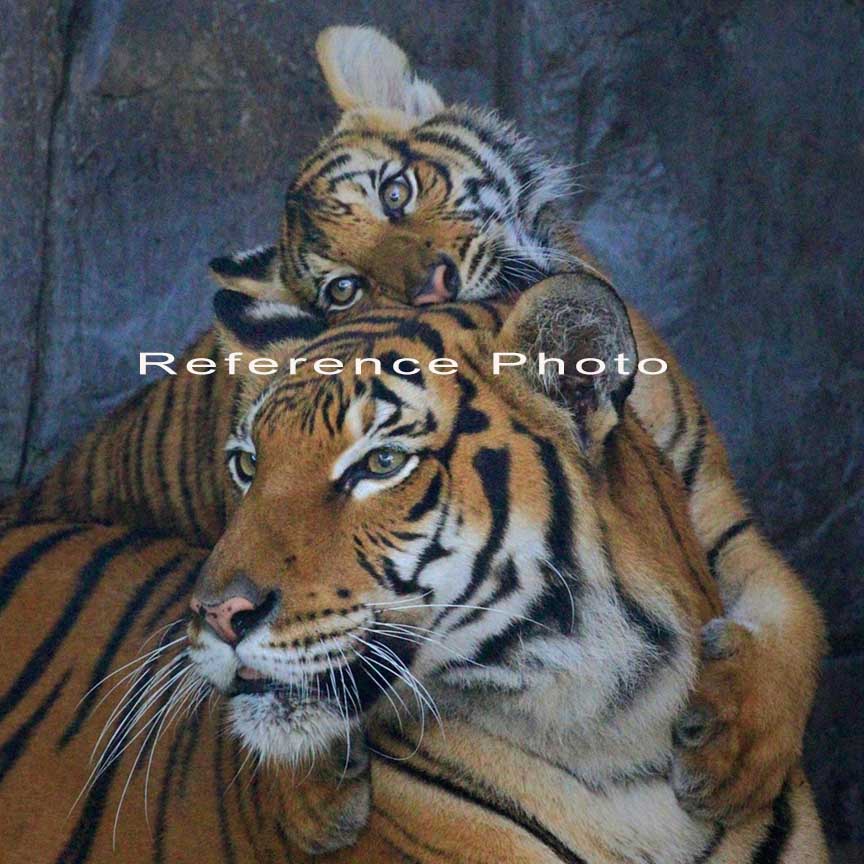 Then, one fine day, while browsing through Facebook, I came across a photo of a Malayan Tiger that was posted by an acquaintance of mine John Guiseppi http://Guiseppi's- Art in Nature, a professional photographer/artist, from Florida. How ironic was that!!
I messaged him immediately, explaining in length about my intention of using his photo as reference for my artwork. I did offer to pay him for the use of the photo but he flatly refused! Citing that because it was for a good cause, he considered it as a contribution on his part, from USA.
John shared with me several photos of the Malayan Tiger with all the details including their names and location where he took them. And among all the photos that he sent me, this particular photo of a mom and her cub caught my eyes. I knew immediately, this is it.
I have seen so many portraits of tigers with all kinds of poses but I have not come across a pose like this one. The cheekiness of the cub playing and hugging her mom tenderly while her mother stayed still with the regal look of motherly protectiveness. John captured it so well with his camera.
Process of the painting:
Material used: 140lbs (300gsm) hot pressed Arches aquarelle paper. Faber-Castell Albrecht Durer (water soluble colour pencils) as the base which also acts as primer before using the Faber-Castell Polychromos over it for the blue background.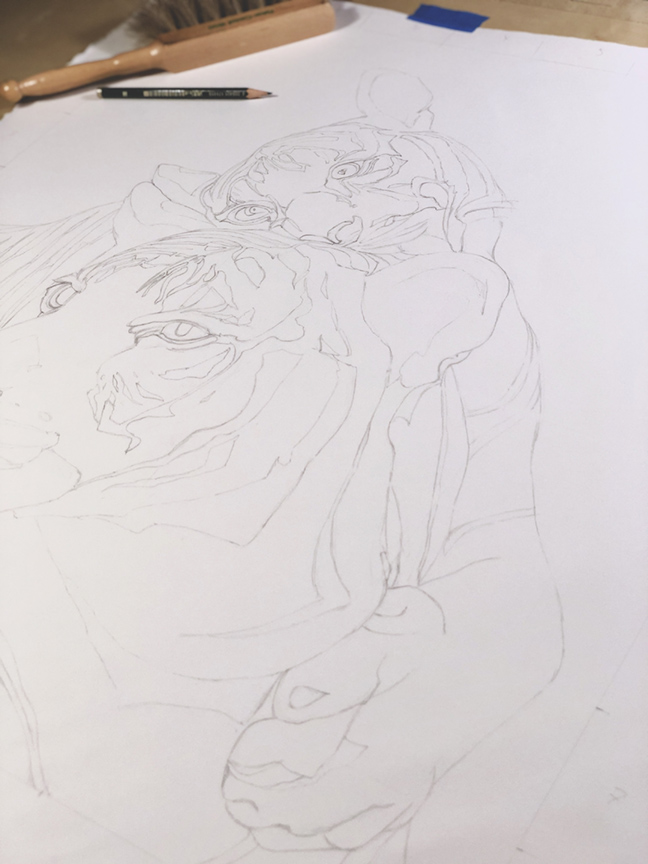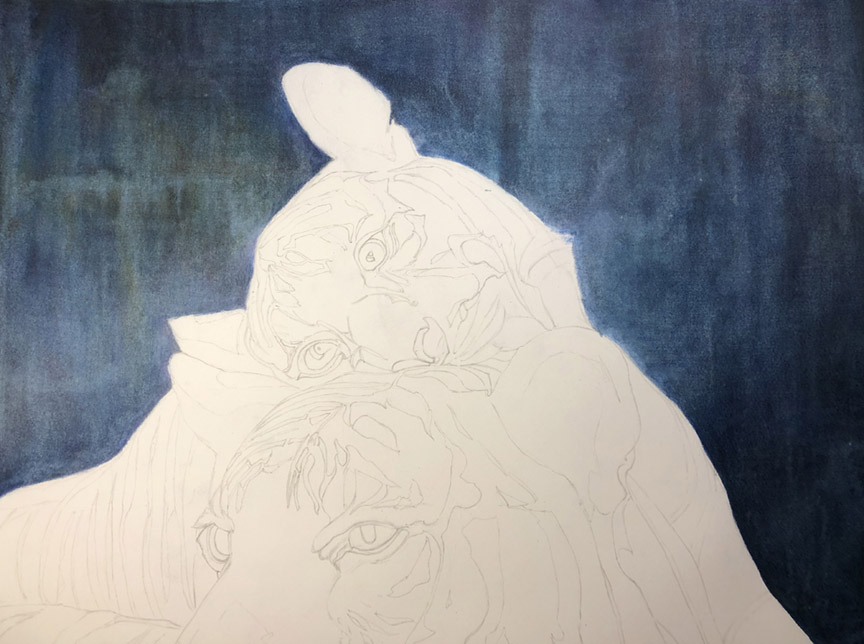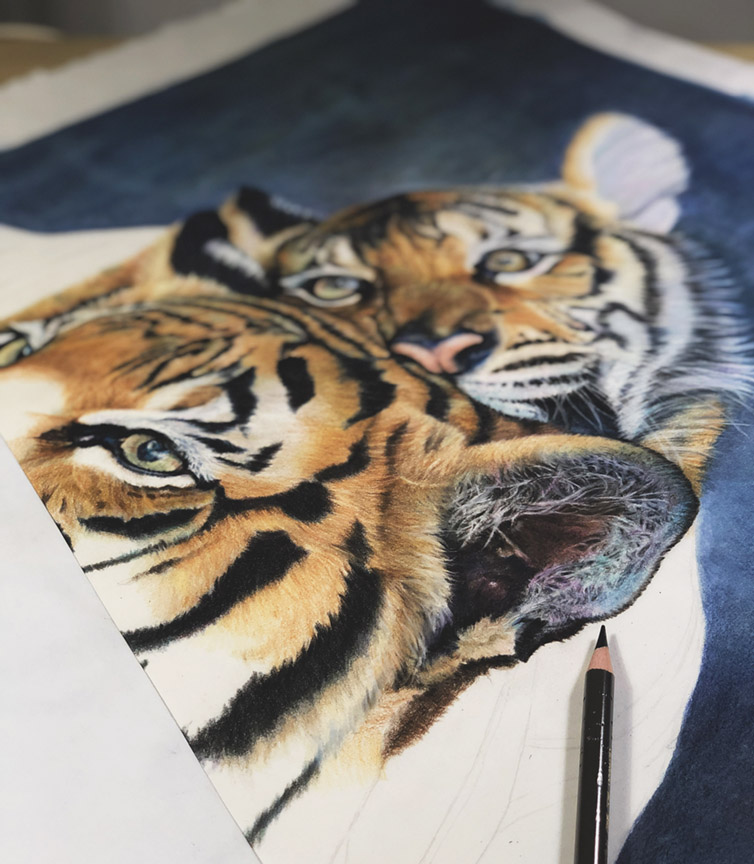 A shown here, the colours I have used seemed to not make sense. They are colours that I have hardly ever use. But with this particular portrait, it worked!

My favourite part of this portrait will be the left paw of the cub. Could not resist the fluffiness and those little details of her toes. Notice that I did up the paw first before anything else?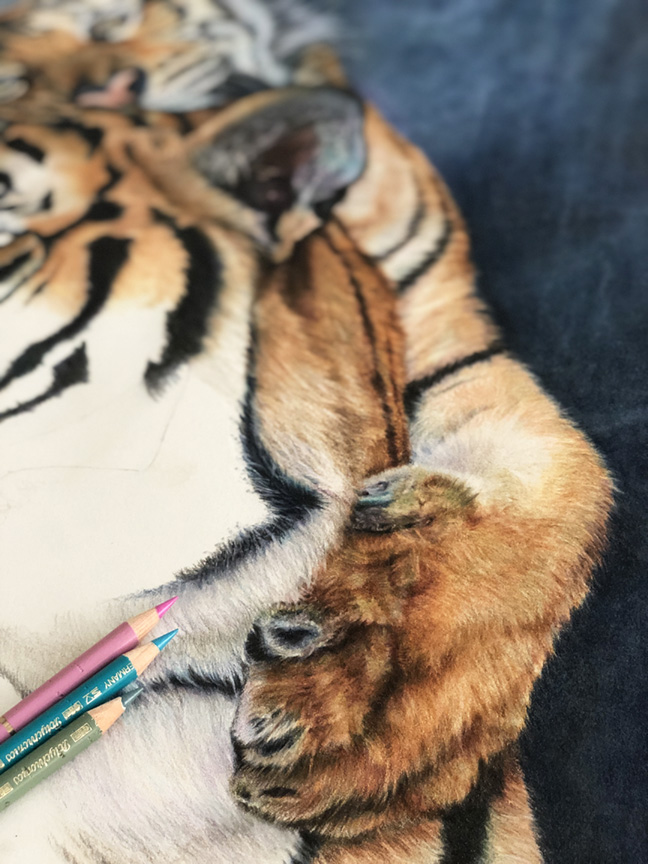 I took my time with this, mainly because it was my very first tiger portrait and I really want to do it well. All together it took me about 7 weeks to complete.
Initially, I have no intention of doing any giclee print of it. Especially if I am working on references that were not my own. It is against my principle as an artist to use the work of others for my own gain.
BUT…., in this case, I did 2 prints. One, as a token of thanks and appreciation to John. The other, which John wanted to pay for it (which I refused), as a gift to Lowry Park Zoo https://zootampa.org/ where he took the photo. Knowing that it is for the Malayan Tigers conservation, John will do the framing of the print along with all the informations about RIMAU and present it as a gift to Zoo. I am more than happy with his thoughtfulness.
Here are several links about Bzui and Berisi: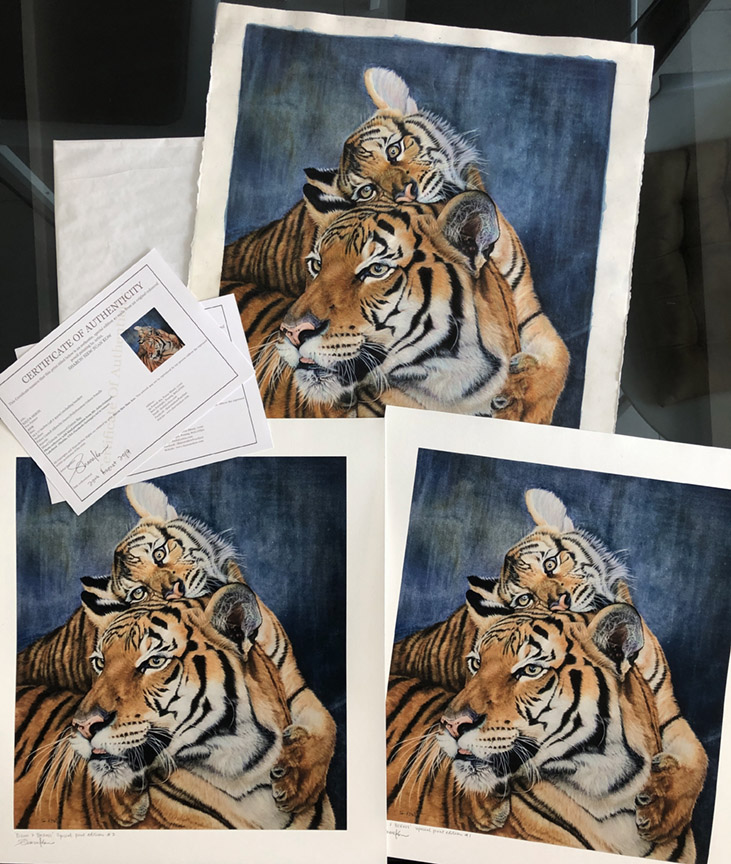 Isn't it wonderful how things like this link people from across the globe together? All for a good cause!

I am so glad that I did this and hopefully this painting of Bzui and Berisi will fetch a good sum for RIMAU in their upcoming gala dinner…..