This year, I decided to go easy. Take my time with my artworks and fully concentrate and indulge in the process of creating.
I have taken off several art competitions and exhibitions from my list except for Colored Pencil Society Of America .
It was not easy initially. Seeing my peers getting into shows and competitions that I've sat out, I felt that I was missing out a lot. But then, by the end of 2018, fifth year into my journey as a colour pencil artist, I realised that I need to take a step back and re-evaluate the directions to where I should be focusing instead.
You know how when we begin to do something which we are passionate about, we tend to want to try out anything, to test the water, so to say. For me, it was just about every opportunity I can get to have my artworks 'out' there. And it worked, really.

But as time goes by, I realised that I am putting unnecessary pressure on myself. And if that keep going on, passion will eventually turned into a drag.
I thought I'll be having a quiet and slow year but I was sprung by not one but several really really unexpected surprises.
Firstly, an article "12 Contemporary Women Artists" in the American Art Collector Magazine March 2019 issue by Veronica Winter http://www.veronicasart.com/, an established artist herself, who is always promoting other artists' work in her art blog articles with some very reputable international art magazines.
https://www.americanartcollector.com/issues/ezine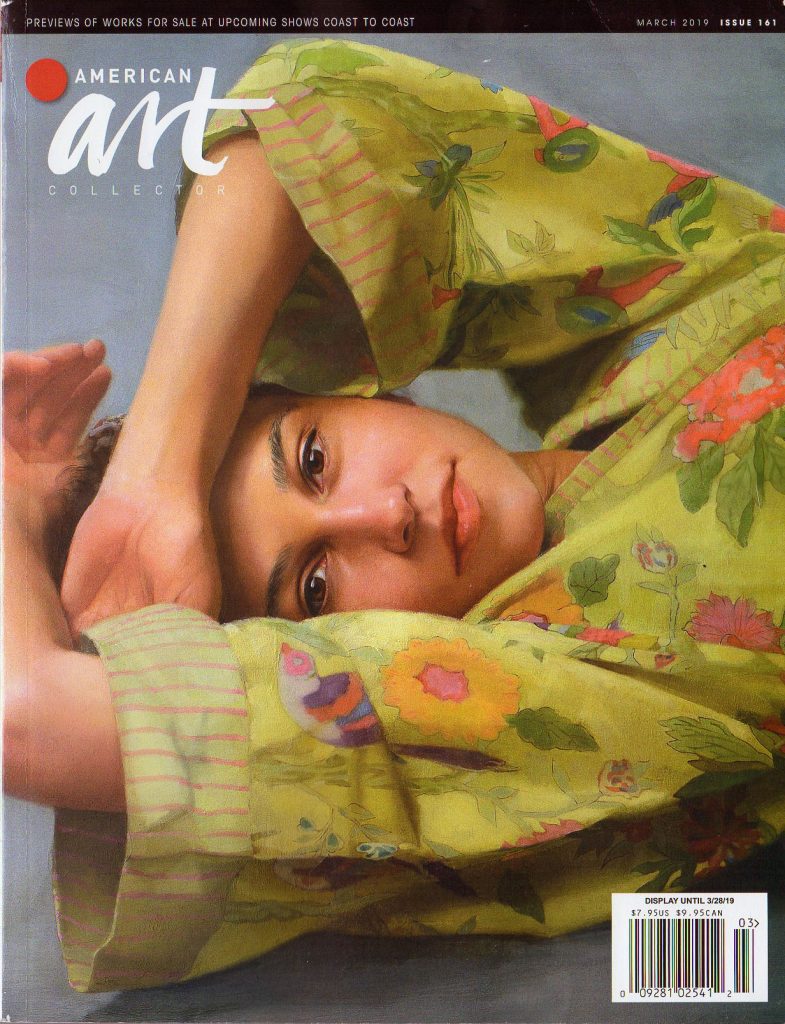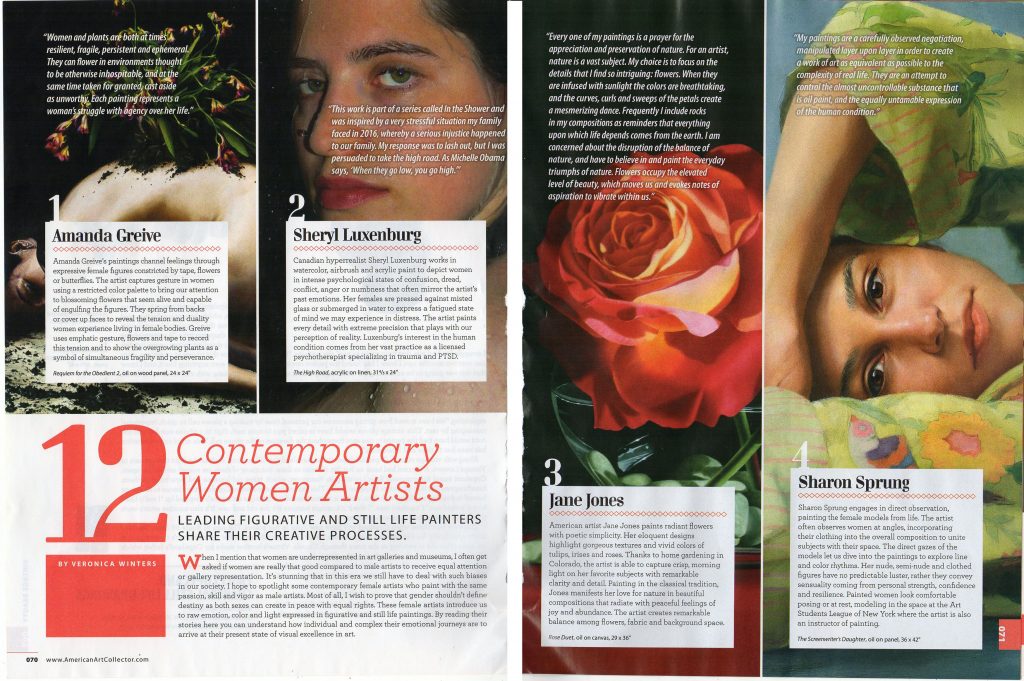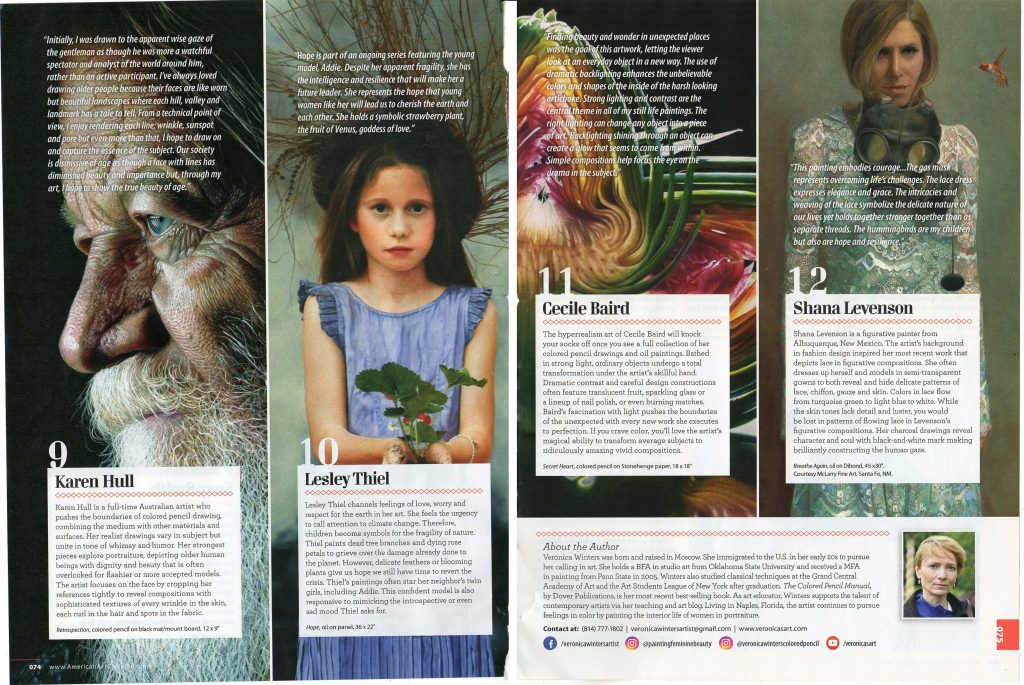 To see my artwork in a main stream art magazine and to be amongst these amazing super talented women artists were just unbelievable!
The second surprise was the news in the home front. I was totally unaware about this and when a dear friend texted me about it, I just could not believe what I saw.
It was a blogspot in the Penang Art District on 'Celebrating Malaysian Women in Arts". In the article, there were a listing of 63 Malaysian women in arts and to be listed in it was so so unexpected.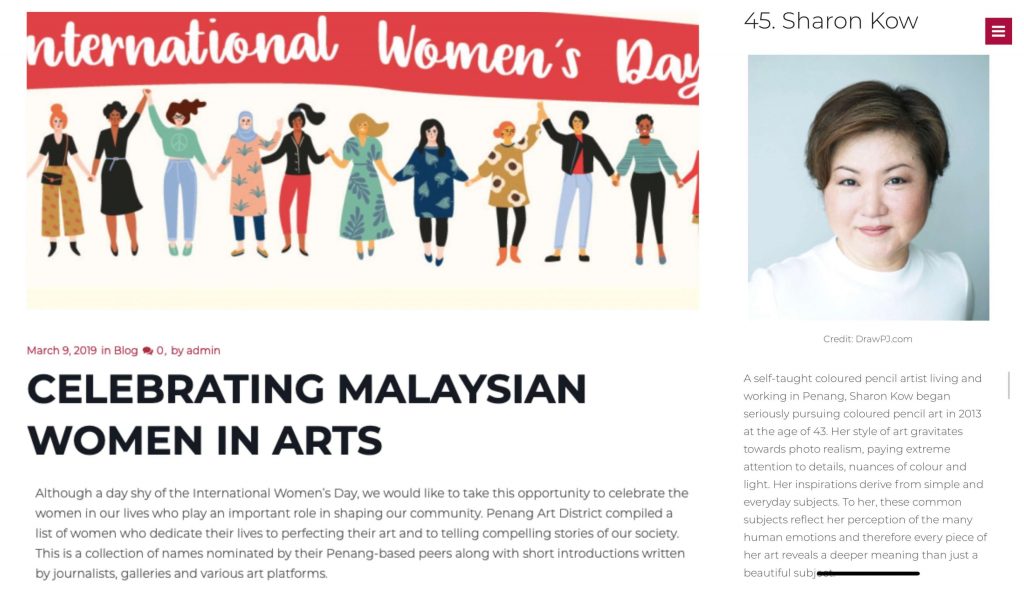 Also in March, a two parts video interview by two talented women, Malaysian author, Gina Yap and Malaysian Jazz singer Juwita Suwito of Songs & Stories

In April, I was caught by surprise when "Textures of Life" won the Best in Show in the Coloured Pencil Community of Australasia Organisation (CPCAU) online international competition. I entered it at the very last minute to show my support for the organisation, which regrettably has been dissolved.

Nevertheless, it was still a a very pleasant surprise.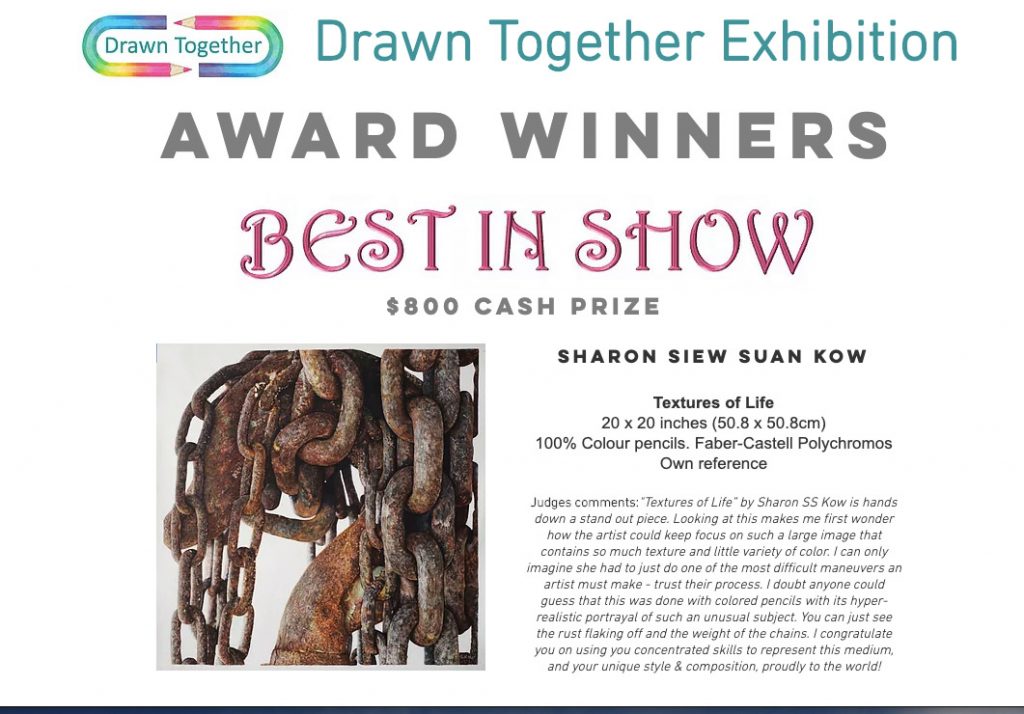 In July, I received an email from a 5 star contemporary hotel in Penang asking me whether I'm interested in putting up a solo exhibition in their art gallery. WHOA!!
I'll get back to that later in the blog…
Also in July and September, collaborated with Faber-Castell Malaysia (FCM) to conduct 2 coloured pencil art workshops in Kuala Lumpur.
Teaching is never my forte, truly. I get very stressed out just by the thought of public speaking but that was something which I could not refused. FCM has always given me their full support since I started out way back since 2014. It was the least I can do to show my gratitude.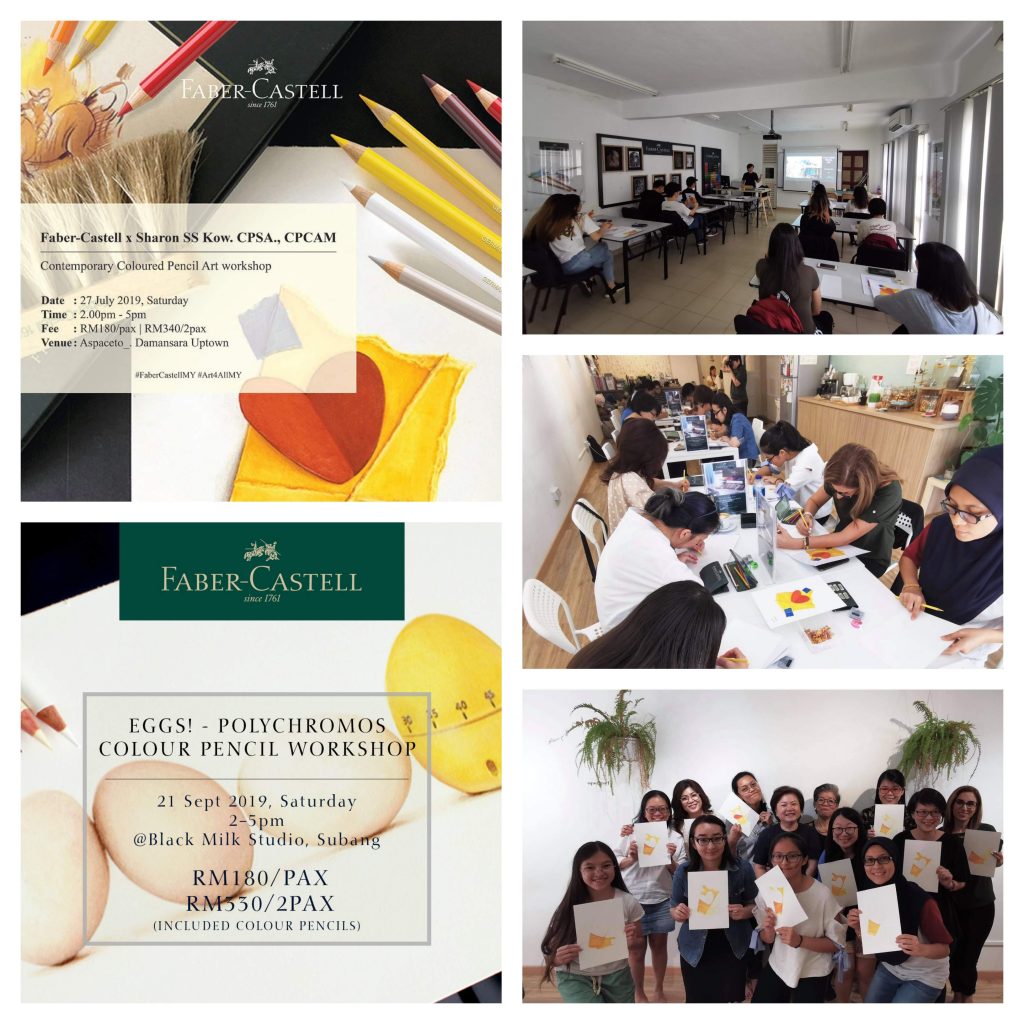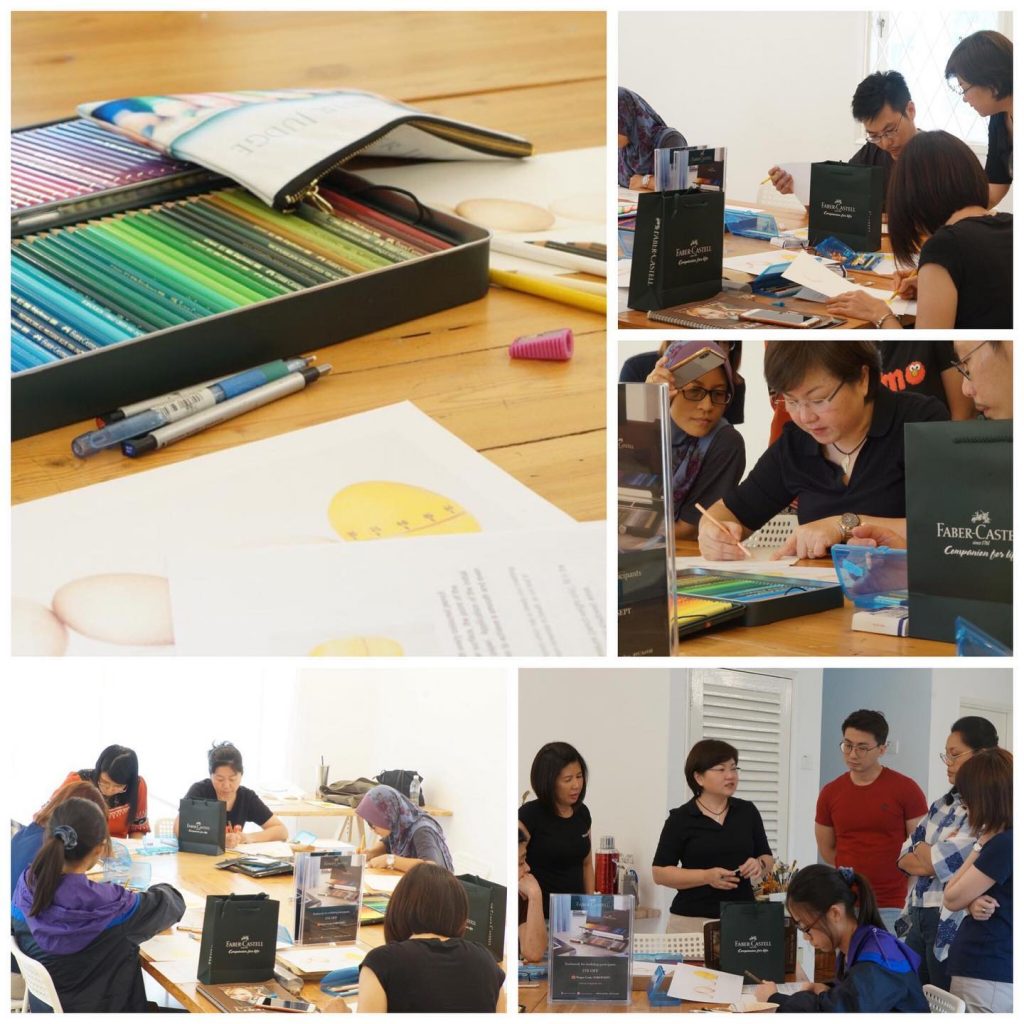 October, Featured Artist in Colored Pencil Magazine October 2019 issue.
Colored Pencil Magazine contacted me earlier this year about being the featured artist. It was an opportunity that I could not refused. The last time my artworks were published in their magazine was way back in 2014. And that was in the Colored Pencil Magazine Student issue, when I was still very 'green'.

It was a real delight to see that antique sewing machine on the cover.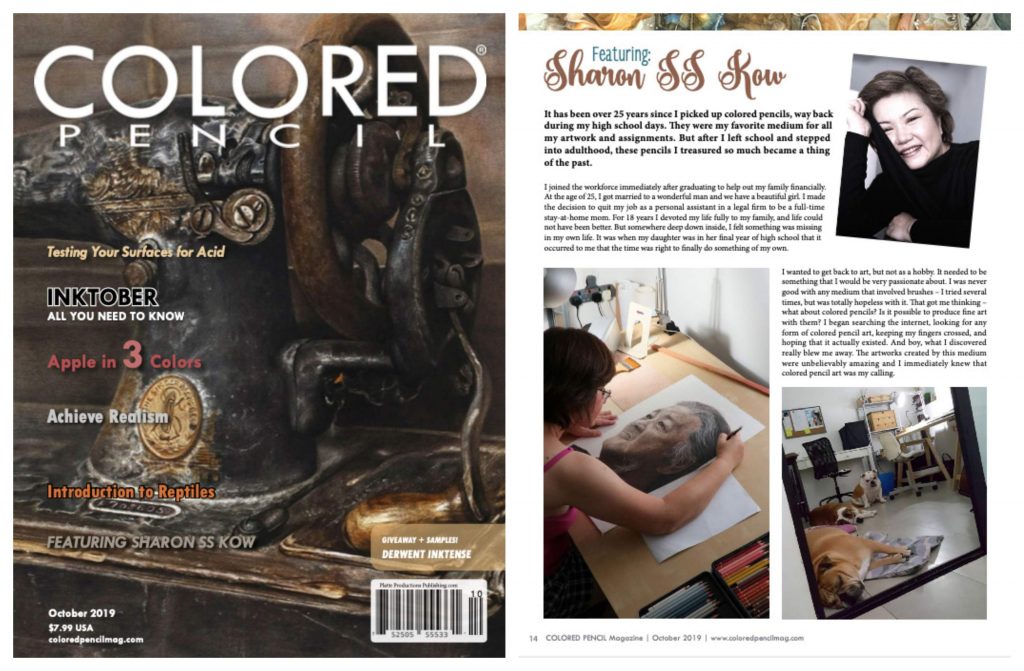 November, one of the most shocking surprises of all, being nominated in the Creative Artistic Talents Of Malaysia – The Top 10.
Not only it was on social media, the company, TOP 10 of Malaysia, is actually a magazine publishing company in association with TOP 10 of Asia.
I received a message on Facebook art page from an editorial team of Top 10 Malaysia. To be honest, I've never heard of them and I thought it was a scam or something. After going through their website, I realised why I haven't heard of them. They are mainly a high society and business kind of magazine, that's why.

I really don't know how they came to know about me. I'm very sure someone I know may have been their sources. But whatever it is, this was really a very unexpected thing.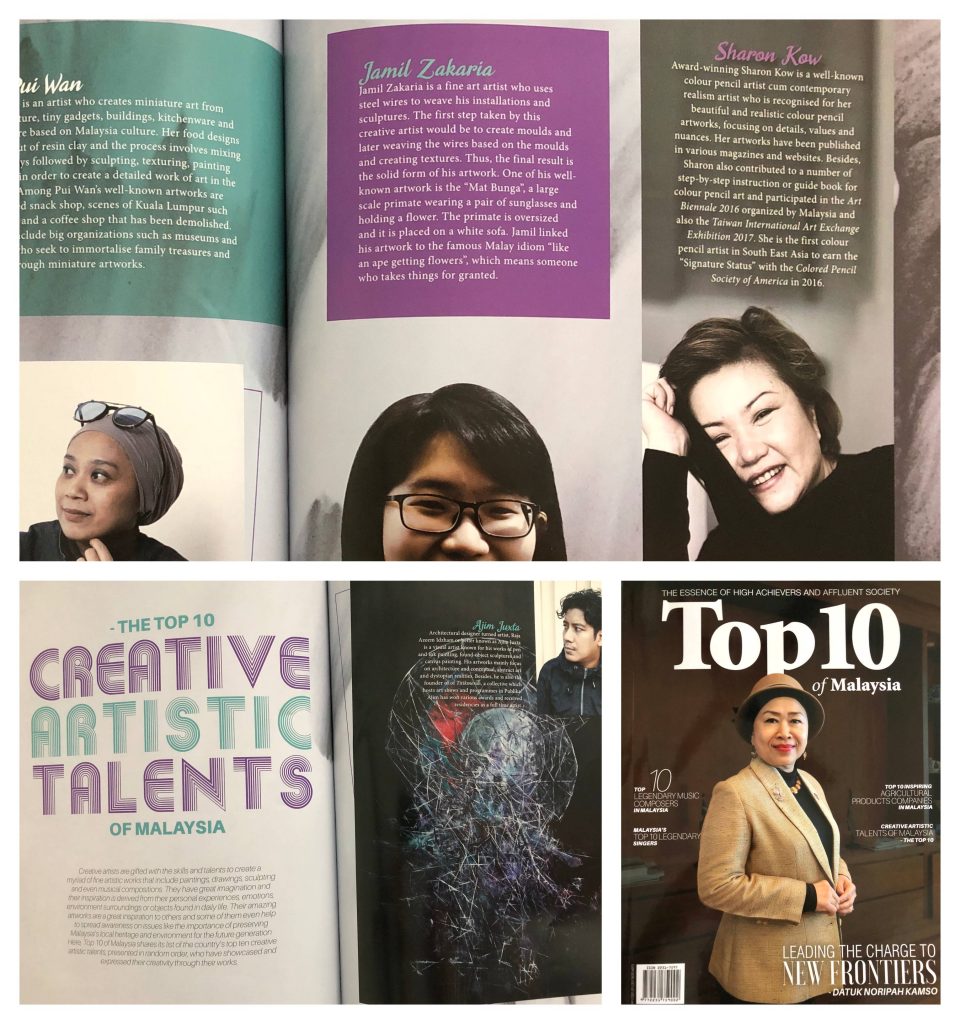 Lastly, on the 6th December, got invited to the official launching of the new Faber-Castell Malaysia Creative Art Studio in Sunway Pyramid, Kuala Lumpur.
Now, this is really a one of kind of initiative from FCM. The idea of putting up a very artful and elegant art studio in the middle of a busy mall rather than in a confined space is very forward thinking.

There's a floor to ceiling art showcase by selected artists with an interval change every 2 months. It is a huge honour to be the first artist to have 10 pieces of my artworks on display until January 2020.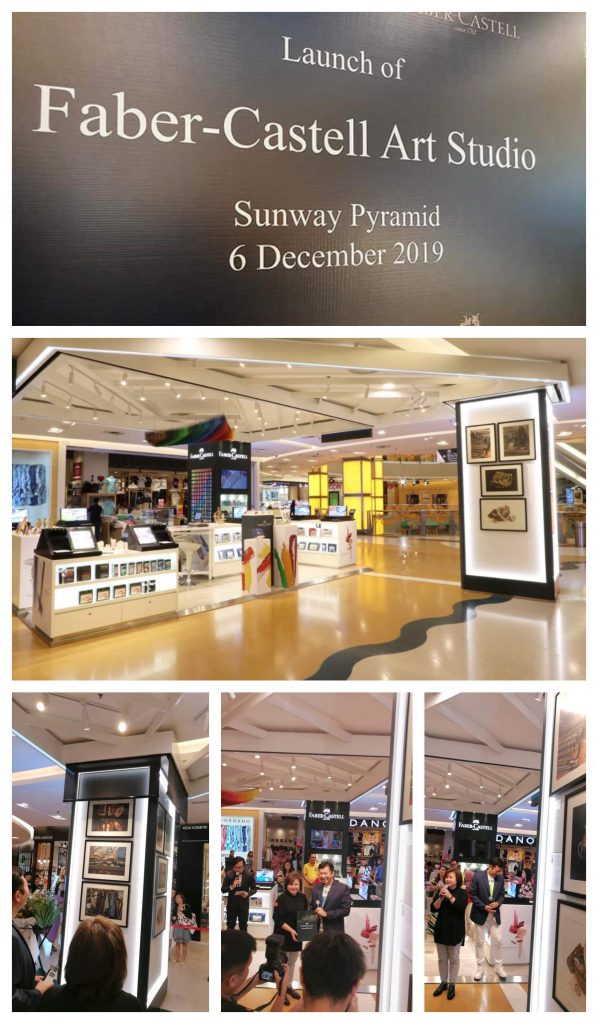 All these, are all so very unexpected. If only you can see my face the actual moment when I received all the news and emails. I was totally stunned when I received the email from the hotel's Communications Director inviting me to hold a solo all coloured pencil art exhibition. I really had to pinch my cheeks many many times as I read and re-read their email.

Till today, the feeling is still fresh and I've been working non-stop trying to churn out all new works for the show in May 2020.
This time around, it is no pressure at all even though I've a deadline to meet. The years of staying true to what I believe has led to this, my first, very own solo exhibition.
It is a wonderful feeling of achievement to see coloured pencil art finally getting some recognition in the mainstream art scene, especially in my own country. The years of working diligently, ignoring those naysayers certainly paid off.
But really, I could not have done all these without the support and encouragements from many of my friends and peers. Sincerely, I thank you all from the bottom of my heart.
Here's wishing you all the best of the very best in the year 2020.