The minute I saw this scene, I knew I have to paint it.  I want to capture that whole sombre, nostalgic feeling which tells an interesting story. This needs no descriptions nor explanations in length. I want the viewer to tell me their version of story instead.
This reference picture was taken in an iron factory museum in Nanfangao, Taiwan during my trip there early this year. It was previously an iron factory in the early 60's. But due to technology advancement and changes of the times, the factory closed  down in 2004. And now, with the effort of the owner, it was turned into the Sangang Iron Factory Museum.
From the outside, this museum looks like an ordinary old taiwanese shophouses. If we were not taken in for a tour, I would not have know that it was a museum.  It was messy with all kinds of old metals and ironworks. The pathway was long and very narrow, one has to be very careful while manoeuvring about.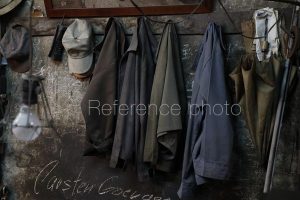 It was quite overwhelming to see so many things in this tight place. A whole lot of old woods, metal and brass ornaments, rusted chains, boat engine part etc.. haphazardly filling up  every corner.  When my eyes and brain finally begun to sort of settled down, I stumbled upon this beautiful set up on this wall behind an antique cabinet.
I have walked by it several times but did not noticed it earlier. When I actually 'see' it, I did a double take and my feet just did an emergency brake. I stood there, stared at it, lost in thoughts,  blocking the walkway.
Nah, no eerie feeling at all. Instead, I felt as though I was transported back in time. My eyes were like the camera's zoom lens, zooming in the scene in slow motion, all surrounding sounds and voices were muffled. I was transfixed!  In my head, I was 'reading' a made up memoir of the people whose belongings were on that hanger. It was a light-bulb moment and I knew I found the perfect subject for my next art piece.
Composition:
Normally, when taking pictures like this, most people will eliminate the hanging lightbulb on the left. The focus will be just on the hanging objects and the composition will be straight (look at the level of the mirror frame). If I were to do that, my painting will be kind of boring and it will look like a commercial shot (Levi's, Edwin jeans?).
In order to add in that 'artistic' feel, I took the picture in a slight diagonal angle. Include the hanging lightbulb in a near distant to give depth to the whole composition.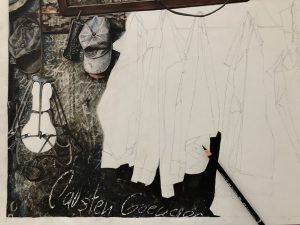 The process:
Material used: Faber-Castell Polychromos/Derwent Drawing "Chinese White' (for highlights). 300gsm hot pressedArches aquarelle water colour paper.
I have no intention for my art to look exactly like the reference photo. If I put both the picture and artwork side by side, there will be many discrepancies and it does not matter. Apart from visual, I want it to be felt.
The process was not as difficult as I initially thought.  Apart from the tedious process of colour layering, I had fun lifting off the pigment to create the graffitis. To do that, I used the battery operated eraser. It was a pretty messy affair.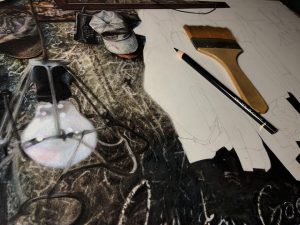 Before I could have fun lifting off the pigments, I have to make sure I get all the colours and tones right. There were a lot of colour mixing on the paper. Patience is needed to slowly build up the tones. Getting the right value and nuance gave depth to the art piece that cameras were unable to capture.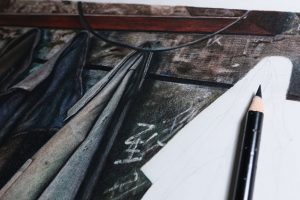 Since this is Realism art, I had to be very technical with the applications. The need to use both logical and emotions on this particular piece was pretty tiring. Several times, I have to stop myself from over thinking/working on certain area and use emotions/feelings instead.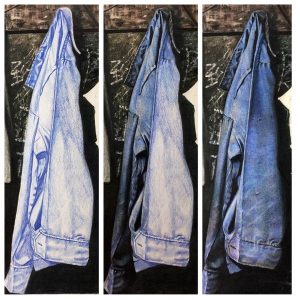 I am very happy with the outcome of this piece. It turned out to be exactly as how I imagined it would be. I am trying to achieve that old painting look with colour pencils and I think I have sort of achieved it. It shows that this medium is extremely versatile and with the right technique, can be at par with those other preferred medium.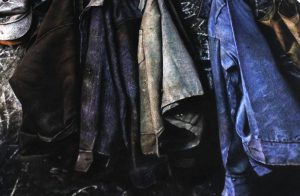 "And thereby hangs a tale" – an expression, taken from As You Like It, by William Shakespeare, that means roughly "There's a real story behind this." It is commonly used by someone who is about to give the background of an interesting object, incident or idea.(The New Dictionary of Cultural Literacy, Third Edition Copyright © 2005 by Houghton Mifflin Company. Published by Houghton Mifflin Company. All rights reserved.)