Art Exchange is a unique event in the Asian and Europe regions. It is a celebration of culturally diverse arts by artists from various countries.
These exhibition celebrates the rich spectrum of nationalities and culture which populate the local area. Invited artists with various styles of work gathers together in one place, sharing and exchanging ideas and philosophy with talks and workshops.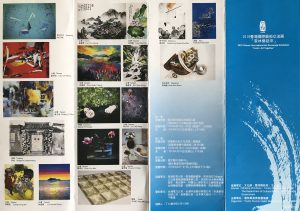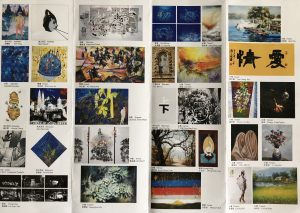 I am extremely honoured to be amongst the participating artist from my country. There were 49 artists altogether from Australia, Denmark, Germany, United Kingdom, China, Hong Kong, Iran, Japan, Korea, Thailand, Pakistan, Taiwan and Malaysia. And guess what? I am the only one working with colour pencil!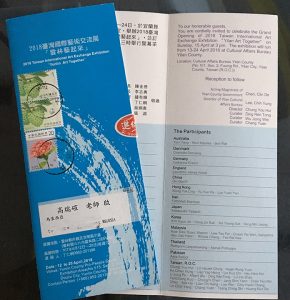 This is the 5th international art exchange exhibition under the curatorship of Taiwan's esteemed print-making master, Professor Bill Chung(National Taiwan University of Arts) and three established artists, Mr. Ding, Mr. Albert Wu and Mr. Chang of Taiwan.
This exhibition is not only a platform for all participating artists, it aims to cultivate and develop cultural exchange and interactions between Taiwan and all participating countries through art.
This time around, there were two exhibition venues, Yunlin County Pro-People Space and Cultural Affairs Bureau Yilan County. These two counties are 280km apart. All of us had the opportunity to see more of the country since we travelled by car from one point to another.
Both Yunlin and Yilan county government were very supportive of the exhibition. The Magistrate of Yunlin County and the Director of Yilan Cultural Affairs Bureau attended the official openings and every artist were presented with a Certificate of Appreciation.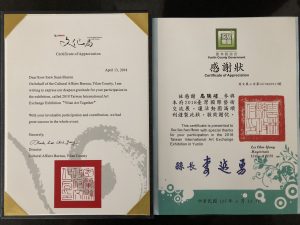 The organiser went all out to make our 6 days stay as pleasant as possible. Their hospitality and friendliness were really out of this world!  We were all very well taken care of the minute we set foot on Taiwan's soil.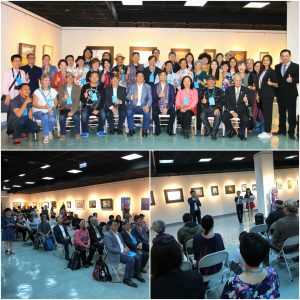 p.s. They love the 'thumbs up' pose : )
Now, let me talk about my experience during throughout this trip.
This was my second participation in this exhibition, so I am a bit more relaxed. One of the highlight this year was meeting up with a Facebook friend, an upcoming artist from Pakistan. We have been Facebook friends for a couple of years and this exhibition gave us the opportunity to meet face to face. Who would have thought!!!
There were also a couple of artists whom I have met during the art biennale back in Malaysia 2015 and it felt great to meet and interact with them again in a foreign land.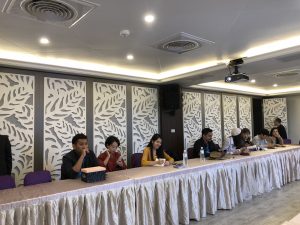 One of the most interesting program of the exhibition was the artists sharing session. Each artist were given 4-5 minutes to introduced themselves and talk about their artwork. Imagine this, in that session itself, we have artists speaking in their mother tongue.  Mandarin (of course), Japanese, Korean, Thai, Malay and English.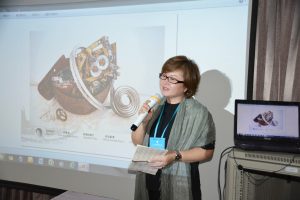 The English language is not a common lingua in Taiwan, communications can be a bit tricky. But when it comes to art, we all had no problem at all. Art indeed is an universal language.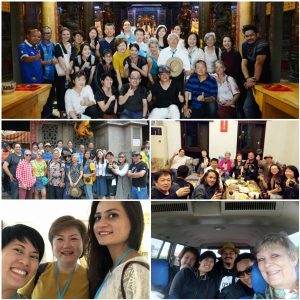 In the five years of my art career, I have attended and participated in several exhibitions, both internationally and locally. The difference between art exhibition and art exchange exhibition is very distinct. The former focused on showcasing of artworks and the latter integrates cultures and human interactions through art activities.
I have learned a lot from all the artists that I have met during the event. Not only in technical aspect but understanding art through their perspective. It was a huge mix of artists who attended this exhibition. Apart from professional artists, there were art lecturers and students from colleges and universities, teachers, architects, Interior designers and many more.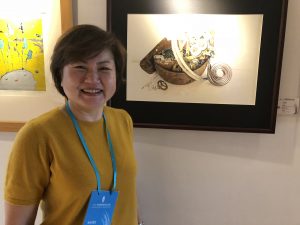 In that circle of talented human beings, I felt so insignificant BUT not in a negative way. I felt that I have so much more to learn from both the young and experienced. It opens up my eyes and mind to see beyond the boundaries. Nothing is impossible if we put our mind and effort in what we do.
I will still stick to my favourite colour pencils for now and I intend to push the boundaries with it. Somehow I am very confident that I am able to do it, it is just a matter of time….