I was invited to join this closed group on facebook by Mr. Justin DancingHawk (yup, that's his name alright!) 2 months ago. It was an honour to be invited because, to be invited, he will screen through the work of the recommended artists, and if he thinks that you work is good enough, only then, you'll be added to the group.
This group is called Go APE for ART, for and of artists, dedicated to stepping up and out to change the world we live in through our donations of art works, focused on the orangutans, in support of wildlife conservation, specifically the OrangUtan Protection Foundationhttp://opf.org/
The requirement after accepting the invitation is a MUST to produce an orangutan's artpiece, no restrictions of media, it can be anything, as long as it's an art piece. Sales of the Orangutan art will be donated in FULL to the Foundation to assist in the care and auspices of the Foundation to eventual release/restoration of orangutans into the wild.
I immediately agreed to the terms and wasted no time to produce this painting. The reference photo was taken from the Orangutan Protection Foundation facebook's gallery page, it's free for all artist to use.
It was not too difficult to paint this baby, except that this is the first for me to use such strong, vivid colours. The difficult part was the hammock, Oh my! The details!!! I did it straight using the coloured pencils, as you can see on the progress pictures. It was tedious on the eyes and fingers! But I had fun doing this as I know it's a piece of my contribution to such a lovely creature.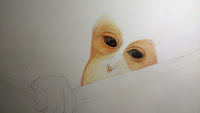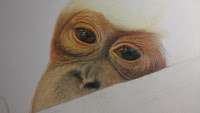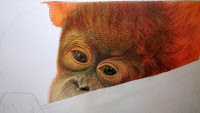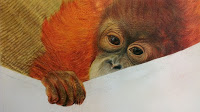 I'd used Derwent's Coloursoft coloured pencil this time as I felt I've sort of neglected it for quite sometime. Since Derwent pencils are wax based, I've got lots of dusts everywhere, and it's orange! I've got it on my clothes, my desks, pencil case… Hmm.. that's one downside of using wax based cps. With oil based cps, like Faber Castell polychromos, I'll never have such messy problems.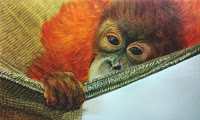 Ms. Esther Geh of The Art E Space www.theartespace.com in Straits Quay, Penang, is kind enough to suggest that I put this up in her gallery. She'll then put the write up on their website/facebook page to help me sell this painting.
So for now, fingers crossed and hope. As I say, all proceeds from the sale WILL go this foundation, http://opf.org/.