How would I know that this will be the last time that my dear father would pose for me….
Not long after I finished up this piece, he passed away. He never left the hospital, after a month and half stay. It's a consolation to me that he saw this finished piece and he said that he's amazed that I could paint his hand exactly like his plus the tattoo too, that remark meant so much for me and I know that he's proud that I possessed his talent for art, which he had taught and encouraged me since I was in my early teens.
I had the inspiration to do a series of paintings depicting hands of various ages and poses since I started my coloured pencil paintings. The idea was shelved because I could not get good referrals. I want it to be my own composition rather than taking other people's reference pictures.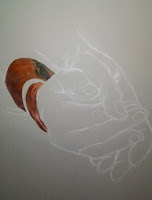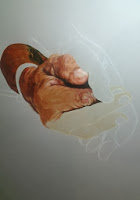 This inspirations came about when I was going to and fro from the hospital, visiting and bringing whatever food he craved for.  I had this vision in my head, doing a painting of both my father and mother. Instead of a portrait, I came up with this idea of a painting only their hands.
I still recall that day when I was all excited to rush to the hospital to get them to pose for me. I took my mobile phone and 'instructed' them on various hands' holding poses. I really was so thrilled that I got the right composition and can't wait to get home and start painting, which I did. I work on it everyday after every hospital visits and stayed up till wee hours in the morning. I managed to finished it up within 2 weeks.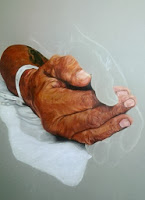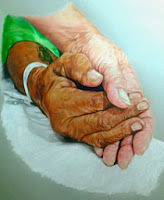 I was prepared to face the painting of hands' challenge as what I know, it's one of the most difficult subject to do. Surprisingly, I didn't feel that it was too difficult. All this could be due to the excitement and knowing that these hands belongs to my parents and no matter how difficult it is, I willed myself to 'must' do it! It's the same feeling I had when I did my father's' "funny face" portrait.
What I want to portray in this piece is the bonding of 2 individual that have gone through so many obstacles in their lifetime together and yet their love for each other remained so strong. Even though both have aged through the years but their love for each other stayed evergreen. And that is how I came out with the title " To Have and To Hold…"

Papa, rest in peace, I miss you so much….