These are my initial introduction before color pencil art.
I was browsing around a bookshop one fine weekend and saw this set of Faber-Castel Sketching pencils. My mind starts to roll, hmm.. it's been a while since I sketch, Why not start now? Next is to look for something to inspire me. Where to begin? How? Went to Art book section and lo & behold, found this 'Sketching & Drawing' set.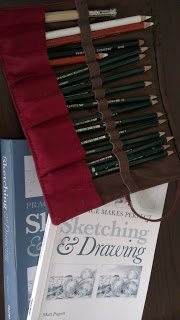 Initially, so afraid to begin, what to sketch???
Ransacked daughter's room, full of photography magazine, she was crazy about camera @ that time, not anymore : (
Found this B&W picture and there you are, my 1st sketch.