Your vision will become clear only when you can look into your own heart. Who looks outside, dreams; who looks inside, awakes. – Carl Jung
These words could not have been truer. Especially with my state of mind before I decided to create this piece.
In December 2021, for the whole month, I was extremely busy socialising, attending art and talk events. Everything seemed to happen within very short notice after the long Covid lockdown. Galleries and social events went out full force, trying to make up lost times.
Being more towards an introvert (Oh, I can socialise well if need to but not that often), it was all quite too much for me. I felt lost and was pretty emotionally 'disarrayed'. It was too much for me. Mentally exhausted.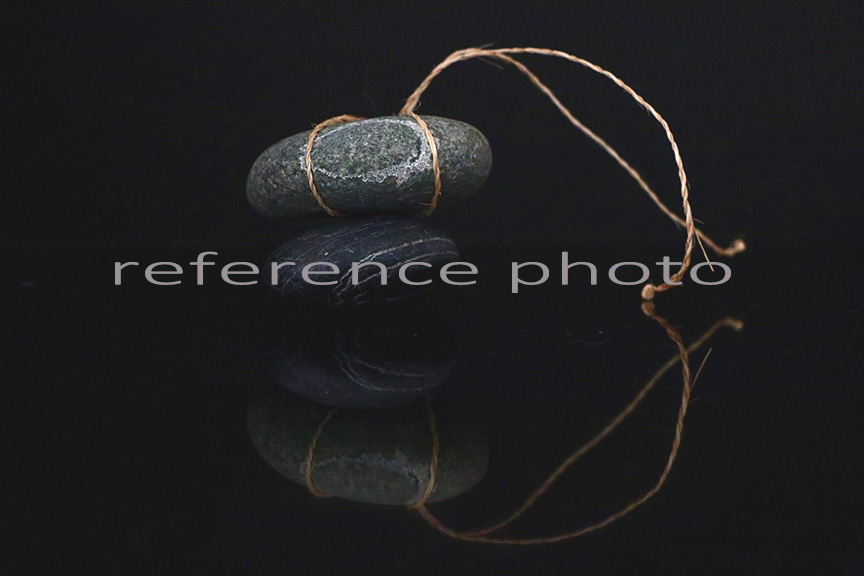 This particular reference photo was taken in 2019, when I was preparing for my first solo exhibition. I decided not to use it because it did not fit the theme of the show. Even though it was the same subject matter, but the mood was just not right, at that time. I felt that it was too dramatic and quite cold.
I strongly believe that getting the right subject matter is very much a state of mind moment. Inspirations appear in the most unlikeliest place, subject and time.
I felt that I had to create a piece which will calm me down. A sort of meditation, through my artwork. As I was going through my inspiration/reference photos. I kept coming back to this particular piece.
It gave me a sense of calmness during the whole process. A simple still-life set up of 2 rock pebbles, a string and its reflections. Quite dramatic really, with the strong light casting over the very dark shadow, which prominently emphasising on the tiny string.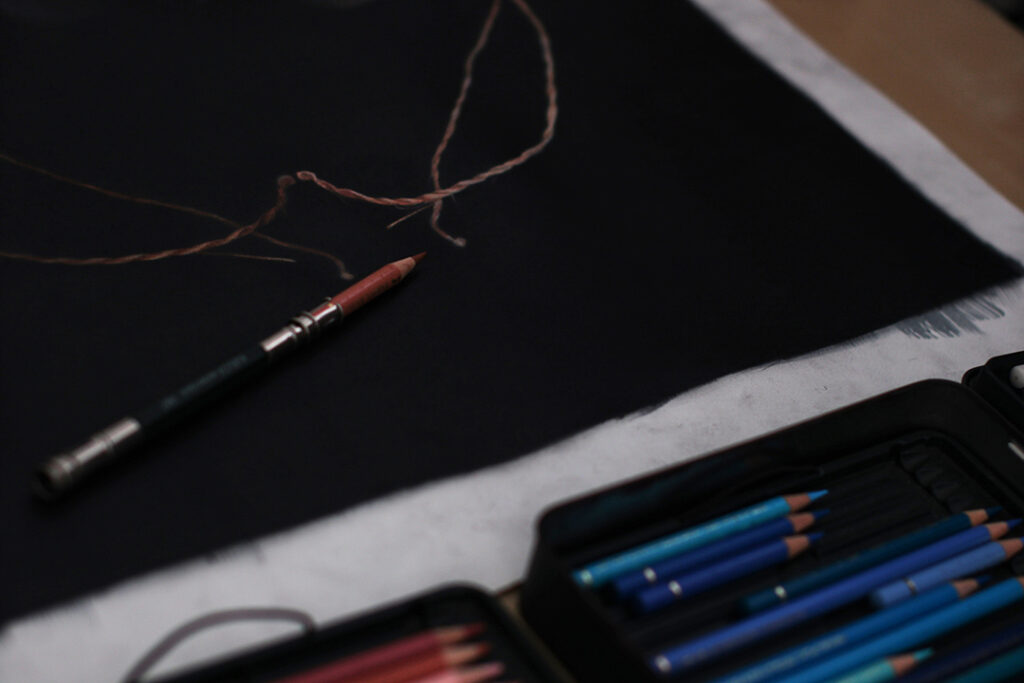 The first thing that came to me was "connection". A self-reflection, connecting to my inner self. With all the white noises going around me, I really need a reset. Take a deep look into my own self and reorganised my mental and emotional settings. And so, I did.
The material:
140lbs (300gsm) hot pressed Arches aquarelle paper, size: 22 x 18 inches (56x46cm),
Background: Faber-Castell Albrecht Durer (Dark Indigo, Black) used wet & dry.
Main subject: Faber-Castell Polychromos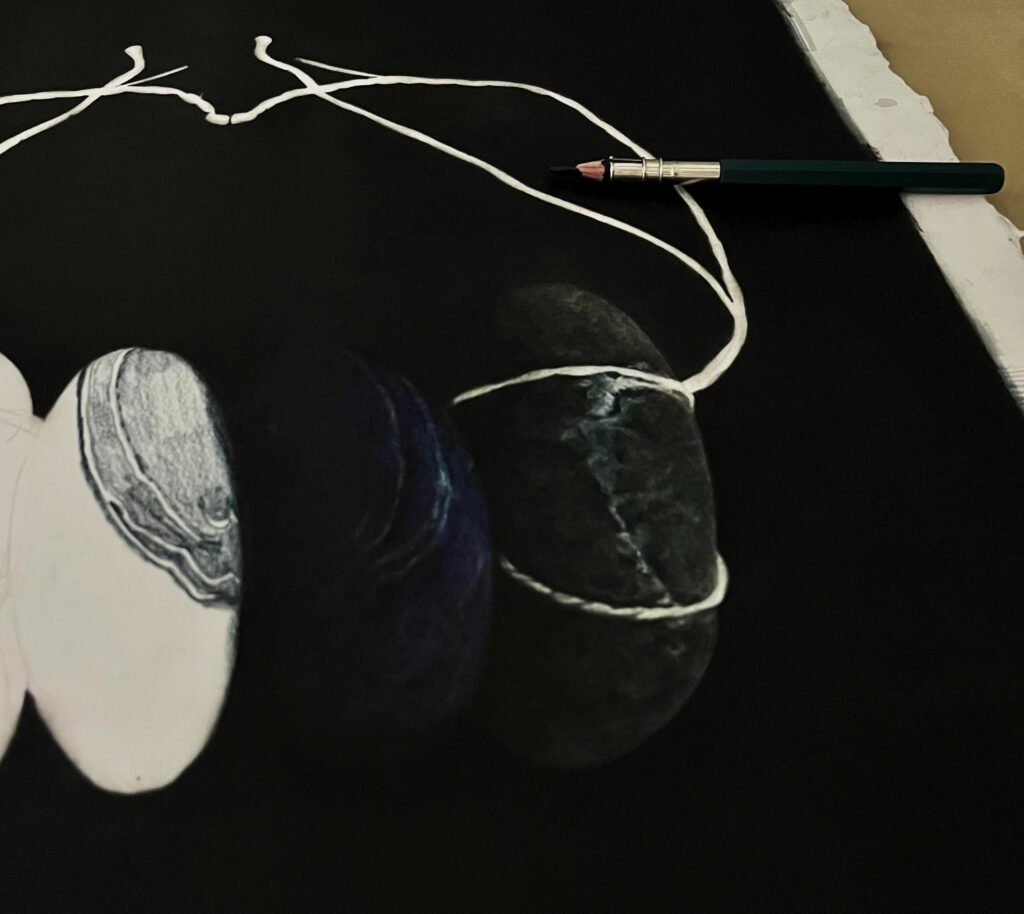 Light and dark contrast are important elements in all of my artworks. I love the intensity of playing with artificial lighting which creates a high contrast of values. With this technique, it dramatised simple subject such as these and gives out a totally different perspective and feel.
I always leave the best part for last. But that does not mean the rest are not important. Every step of the process compliment the overall composition. The shadowy and dark areas are almost transparent with some textures showing through. These technique allows the focused subject to pop out without being too harsh, yet remained cohesive as a whole.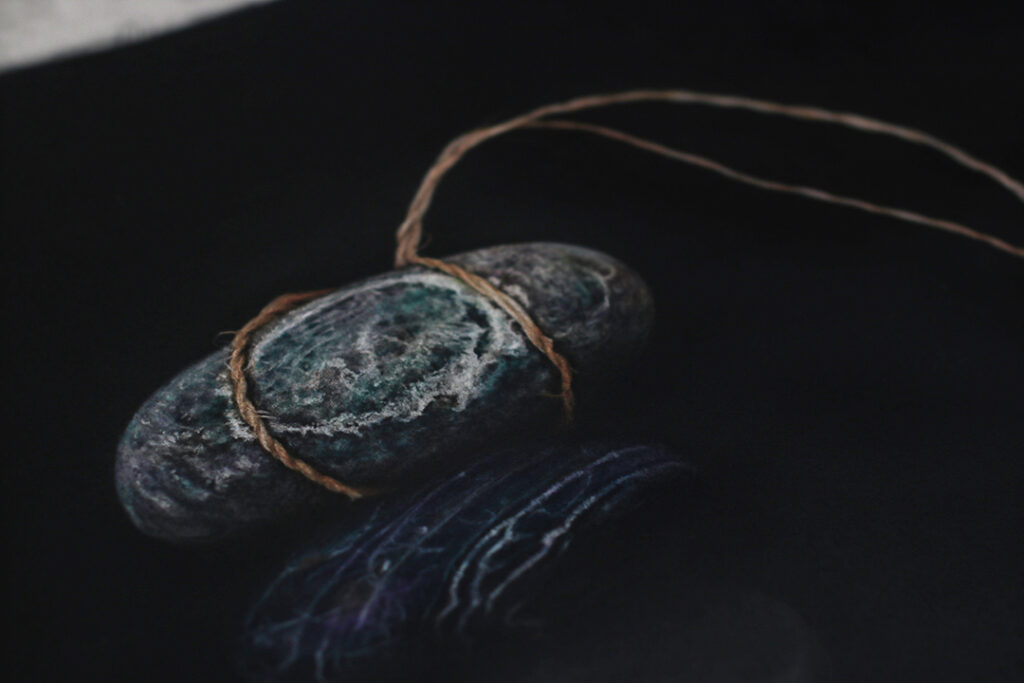 At a glance, it may seem as though the focal point of the whole piece is the rock. But the actual 'hero' of this, is the string. It leads the eyes towards the reflection of the rocks below and and back up again. A full circle. This, to me, symbolised a connectivity between self and inner self.

And with this I quote Jackson Pollock, "Painting is self-discovery".