Well, 2021 was a continuation of 2020, I meant the Covid-19. We had another lockdown early this year because of the pandemic, (again!!), but people are better prepared this time. We were not as clueless as last year.
For me, was work as usual. A tad slow on producing new artworks after my solo exhibition last year. I guess, I am taking it easy after months of crazy rush to complete 17 new and big artworks.
As I am writing this, it is already the 30th of December, just two more days before we get to 2022.
While I was slow in producing new artworks, I was actually pretty occupied with other art related work.
Early this year, I was commissioned to do a portrait of a deity. Yup, you read right.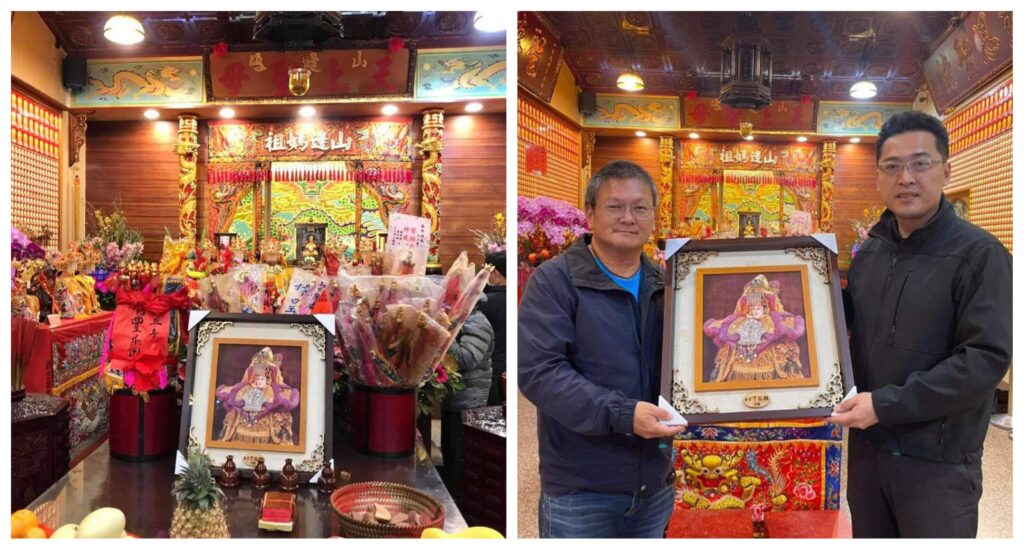 In April, this portrait of "Mazu" -Deity of Seaferers https://simple.wikipedia.org/wiki/Mazu_(goddess) was offered by a dear friend in Taiwan as an offering to the Mazu temple in Mioali County, western Taiwan.
This was my first of its kind commissioned work and I will have to say, it was quite special. To have one of my artwork permanently displayed in a place of worship is pretty much out of this world. Hope I will be able to visit that temple one day.
In May, I was thrilled to have my solo exhibition write-up featured in the Colored Pencil Society Of America (CPSA) "To The Point" magazine.
CPSA is an organisation that I hold dear to my heart . Even though this magazine is for members only, it shows that they value every effort of their members in getting coloured pencil art 'out' there, no matter where you are in the world. I have been a CPSA member since 2014 and I will still be, as long as I still can hold a pencil in my hand.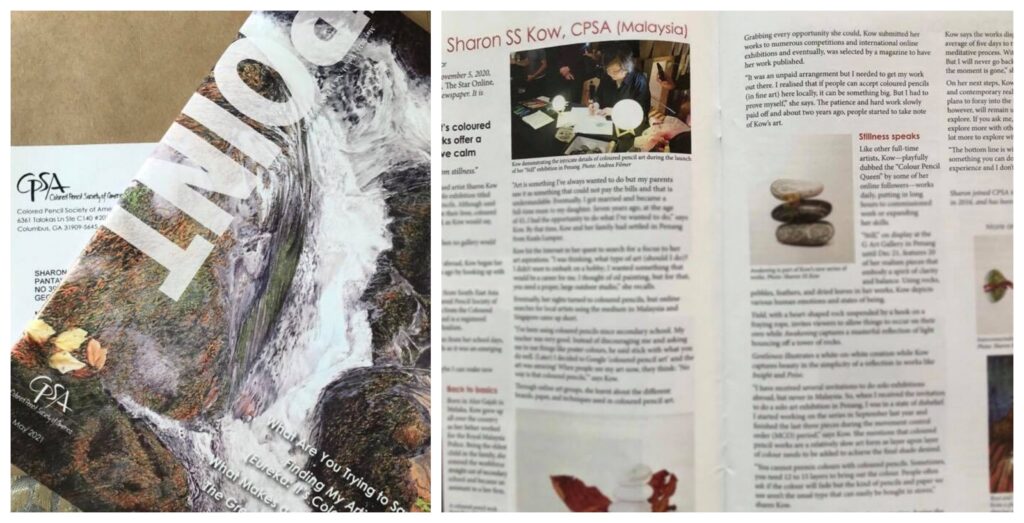 Now, I am absolutely terrified of speaking in public. I do love talking, but only with like-minded friends. That, I could talk non-stop. Speaking to a crowd, even if it is online, gives me the jitters.
But sometimes, I have to do it, like it or not. All because of my mission to share about coloured pencil art. And so, I did this in June….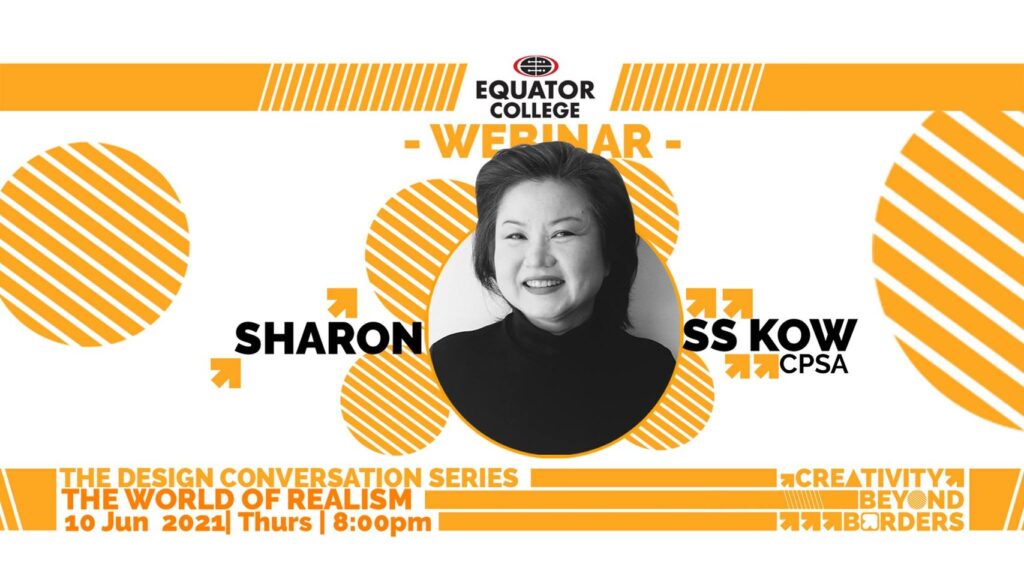 Surprisingly, the host, the Dean of the College at that time, really put me at ease. And the responses I received from the young and eager college kids were amazing. Well, they asked all the questions which were very relevant to the topic. And of course, one of them was "Can a full time artist actually make a living?". Oh well, I think you all know that answer to that.
In between all that, of course I was producing new artworks. Not as many as I wanted to because of the larger sizes. They are about 24 x 24 inches (61 x61cm) at least, hence the slowness. I have only managed to produced 7 artworks for 2021 and I treat every piece as a challenge for me to do better.
In the middle of the year, I received an invitation from an artist friend from Norway, to participate in an art festival in South Korea. Imagine that! I have to send over 2 artworks and donate them to the art museum. This was like an express pass in getting my artworks rooted in another part of the world.
My application to the art exhibition went through a series of scrutiny by the organiser and the jurors of the festival. And I would say that they did a wonderful job in getting all the artworks that they have received, properly and well curated in several art museums in that country.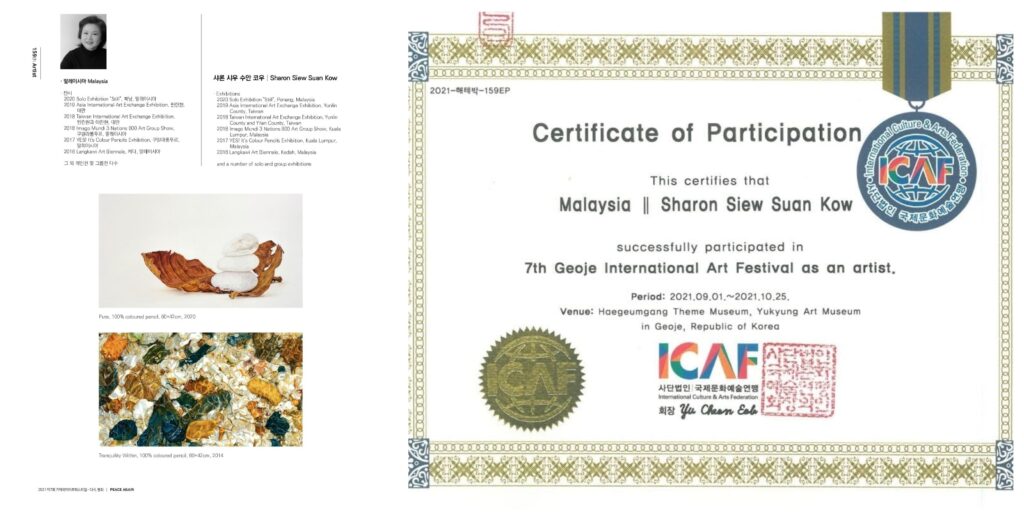 Towards the second half the end of the year, I had 2 very memorable events going on simultaneously. And they were both extremely memorable which I was truly honoured to be included.
Firstly, being invited as one of the judges in A.W. Faber-Castell Malaysia inaugural Young Artist Award https://youngartistaward.my/ in September. It was the nation's most prestigious colouring contest for children. Their ages ranges from 5 to 12 years old.
Some may perceive that, to be a judge/jury in a children colouring competition, is sort of 'degrading' to an artist. Even the organiser thought that the invite will be 'beneath' me and was a bit unsure on how I will react.
Well, I say, it is a cycle. If art was not nurtured or instilled from young, I think, any interest of all artform in the future will just disappear, poof!!! And artists? Rendered obsolete.
With that in mind, I was very thrilled that Faber-Castell Malaysia came up with a brilliant and grand idea of organising this event. The other 3 judges were people with huge portfolios. They are an Art Director, a Curator of the National Art Gallery and a Director of an Creative and Art Design Institute. So you see, I was actually rubbing shoulders with these 3 highly creative people.
It was no small tasks. We all did the judging of the second round online. Almost 170 pieces of artworks to vet through, which took me about 4 hours!
The final round to pick the finalists was done in the Faber-Castell Malaysia headquarters on the 6th December. It was all pre-recorded and were screen live on their Facebook page on the 18th December.
Overall, it was a true eye-opener, fun but a very tiring tasks for all of us. The entries blew us all away, so to speak! Especially knowing that the participants were all so young. There will be a lot of future artists in the making.
Finally, the last event of 2021. And this, to me, was the icing on top of the cake.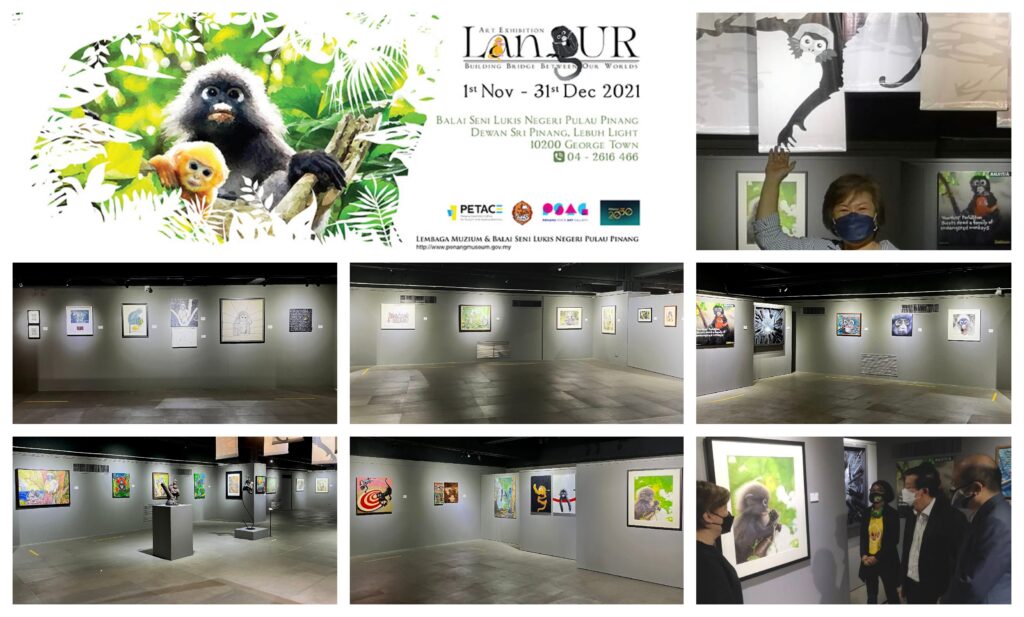 In the beginning of this year, I received an invitation from the Penang State Museum and Art Gallery (PSMAG) https://penangmuseum.gov.my/ ; to participate in a group exhibition which consist of 60 artists of various medium and backgrounds. The theme of the exhibition, "Building Bridge between Our Worlds" was a collaboration between PSMAG and Langur Project Penang (LPP) https://langurprojectpenang.com/ ; spearheaded by guest curator, Ivan Alexander Francis Gabriel.
The exhibition was all about the Dusky Leaf Monkey (Dusky Langur) https://en.wikipedia.org/wiki/Dusky_leaf_monkey; which are now sadly, one of the endangered species in Malaysia. The purpose of the exhibition was to educate the public towards promoting coexistence between humans and wildlife. Part proceeds from all sold artworks will go to LPP for their research, conservation and environmental education missions.
The month-long exhibition was supposed to kick off in July but because of the pandemic nationwide lockdown, it was postponed several times. It finally happened in October and because of the strict standard operation procedure, the exhibition was extended till the end of the year.
The response from the public and medias were immersed. Perhaps people were curious about an exhibition of a not so well-known primate. Surprisingly, more than half of all the artworks were sold, including my piece, "Look Deep Into Nature"; http://sharonsskow.com/2021/05/18/look-deep-into-nature/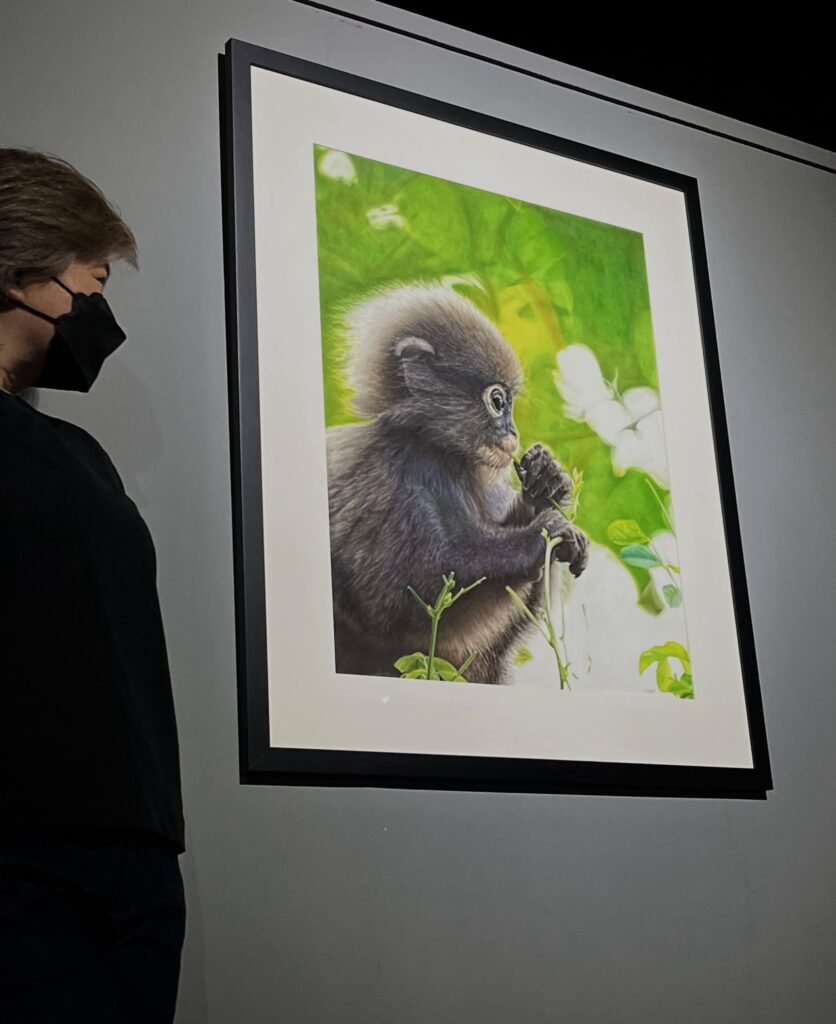 Now that the 3 months long exhibition "Building Bridge Between Our Worlds" has ended. I am very honoured and thrilled to share that "Look Deep Into Nature" was acquired by the Penang State Museum and Art Gallery as an addition to their permanent collection.
Most of all, I am extremely happy that I was able to contribute, not much, but at least something, to the mission of Langur Project Penang.
All in all, the hard work and hope that I have been putting in getting coloured pencil art 'out' there have finally gain momentum in these past couple of years. Especially knowing that this medium has finally received some recognitions and acknowledgements in my home country. And that, to me, is the greatest reward of all.
So with these, I end my blog for 2021 by wishing each and everyone of you a Happy, Healthy and Peaceful 2022!!