Flowers are subjects that I rarely do.  Butterfly, this is a first.
I got a bit tired of the monochrome rusty metal parts(at the moment). I need to refresh. I want to use all those vibrant colours that I have. And also the black surface paper that I purchased quite some time back.
Armed with enthusiasm, I dragged my daughter along to the local butterfly farm, Entopia, just 10 minutes drive from my home. And guess what, since living here for over 10 years, it was my first time to that place and I fell in love with it.
This was done on a 244gsm, 54 x 39 cm (21.5 x 15.5 inches) Rasha, Takeo NT paper. The paper takes on the colours very well and it can really withstand the tremendous and multiple layering.
I also used all the best pencils that I have, Caran D'ache Pablos and Luminous for their luscious colors and Faber-Castell Polychromos for the the details.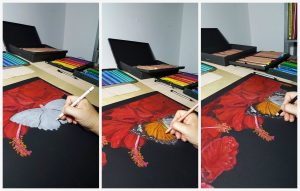 Working on this was quite a challenge because it does not have the ridiculous details that I usually tortured myself with. In fact, it was a pretty monotonous piece because of all the layering of colours upon colours. It was not a breeze and I became impatient. Instead of giving up, I persevered and went on to complete it.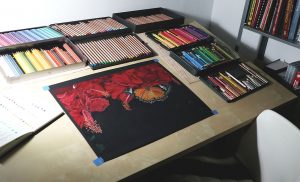 After a while, when I look at it, I felt satisfied with the outcome and thankful that I did not abandon it. Discipline is the key.
Now, as for the title, I want something that reflect the substance of this piece rather than just something beautiful to look at. A title depicting a balance of nature, a transient life cycle that not only sublime but how it contributes to human lives within its short span of life that no human could replicate.
A Fine Balance….