Nascence – emergence,  coming out into existence for the first time.
The title speaks volume since this is my first ever piece of abstract art with colour pencils.
I received a personal invitation via email from Vera Curnow.CPSA,  the founder the Colored Pencil Society of America (CPSA)  back in March this year. She challenged me to take a break from my usual art style and submit an abstract piece for the  CPSA bi-annual To The Point (TTP) magazine June 2017 issue. She is featuring abstract art works with colour pencils and hoped to have more abstract representation in order to step up and reinforce the concept that coloured pencil medium is versatile.
Initially,  I was quite doubtful of my ability because even though I do appreciates some abstract art but it has never crossed my mind to venture into that genre of art.  But nevertheless, I gave it a try anyway and will try my very best to interpret it with colour pencils.
Everywhere in my house, on the floor, on the wall in the washroom, I see nature's work of abstract in the broken marble tiles and that was my inspiration.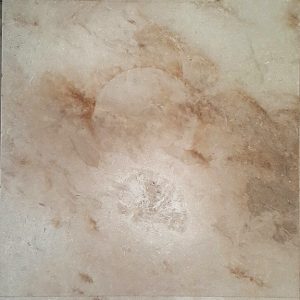 I then did some study and research on the colours, and  I chose the colours of the oceans, one of the hardest colour combination, to me that is. They are like chameleons, ever changing with the time and day.
I had the vision of how the form should be with vibrant colours bursting out from within like a muted explosion, subtle yet powerful. Instead of smooth, clean finishes, I emphasised and played with textures to get a sense of depth.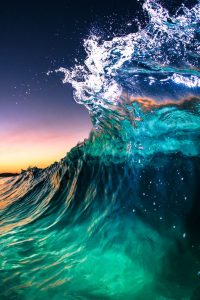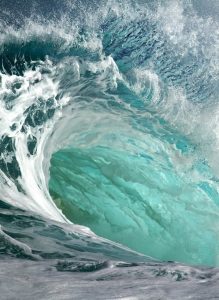 It had never occurred to me to take any work in progress photos because while working on it, it felt as though I was in a trance, my hands kept going. I did not think, instead I 'feel' as I went on. I was another person completely.  This piece was completed in two days' time, the fastest work I have ever done with colour pencil.
When I was finally able to post it on social media, after three months, I was very sceptic. Worried that some of my followers may not like it because it is so different from my usual style of work.
Well, it turned out that I worried for nothing. The responds I received right after posting it online were beyond my expectations. Most surprising of all, it was sold on the same day itself to the United States. Up till today, the view of this piece on my Facebook page had reached by 7000+ people! Absolutely dumbfounded.
SO, the question is, will I do another colour pencil abstract piece in the near future? Nah, I don't think so. Perhaps, when I am no longer able to do detailed work, who knows.