It has been almost one and a half years since I took up coloured pencil art seriously. It never crossed my mind that I can achieve what I had today. It may not be a big thing to many but it is a huge achievement to me.
I told myself from the beginning that I have to go all out and do my very best, not impress anyone, but for my own goal in life. I am over 40 years old. I want to achieve a goal in my life that I can be proud of. But with this medium of art work, where many people consider it a child's play,  I asked myself how should I go about it? With that question in mind, I started surfing the internet to get answers. Lo and behold, what I saw was mind blowing, the art work by some of the coloured pencil artists were incredible!! I vowed to be as good as them.
I started joining a few coloured pencil related groups on Facebook to look and learn from the professionals. Posting my work and submitted it for online competitions etc., to get exposures. This particular group, Colored Pencil Artists and Lovers on Facebook (CPAL) has been very helpful to me. These members consists of various levels of professionals, from beginners to experts. It was from there that I flourished.
An artist friend from that group encouraged me to join Colored Pencil Society of America (CPSA) as an International member and I did. The main reason is that one can earn a signature status if one's work was selected three times within a ten years span. That got me very interested. That is the goal I am after and so I did.
In September 2013, I was approached by Sally Ford from COLORED PENCIL MAGAZINE to do an article of "LEO", my first commission piece, for their Student's 2014 Winter issue. Needless to say I was overwhelmed!!!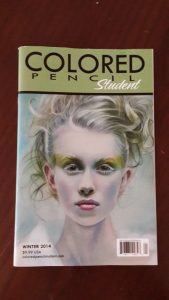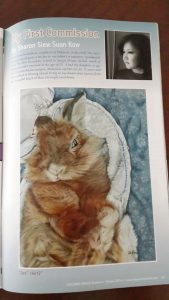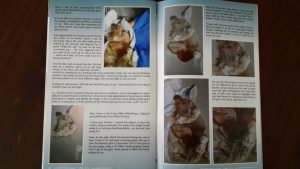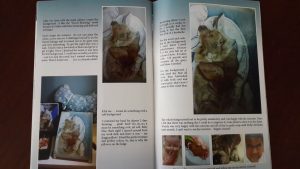 It was a 5 pages spread showing a step by step of my the work. It was a surprised birthday gift from the client, Wendy, to her Godmother.Wendy is an owner of a used bookshop where I go regularly to rent my paperbacks. She was the first non family member who had confidence in my art and after this piece,I did another commissioned piece for her.  I owed her a great deal for having faith in my work.
I submitted the painting of my parents hands "To Have and To Hold…" to CPSA's 22nd Annual International juried competition in March 2014 and so shocked when it was selected for the exhibition in Florida. It was surreal to me as there were so many incredible pieces by exceptional artists. They had about 500+  entries, only 140+ was selected.  I knew the chances to win anything is next to zero but to me, being juried into was already a huge win to me.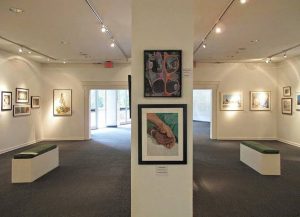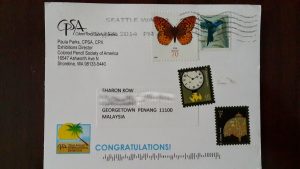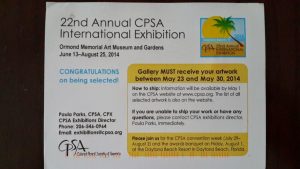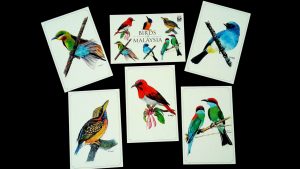 I spent quite a sum sending the framed painting to Florida for the exhibition. It costs about US$450 returned. But I felt it was worth it. This opportunity do not come by every time. But for now,  I think I will stick to one overseas competition a year.Thank goodness I have such wonderful and generous husband, who knowing how much it meant to me, offered to pay for the costs.
I have made lots of friends through this face book page and they have been so kind to take the photo of my piece during the exhibition. I hope I will be able to make it to the CPSA's 23rd Annual international exhibition in Atlanta next year. Even if I do not have a piece exhibited there, I will still want to go and meet all the wonderful supportive friends over in the USA.
The other commissioned pieces I did for Wendy was on colourful birds in Malaysia. She showed my work to a local book publisher and they decided that they like it and turned it into postcards. It was overwhelming to see the postcards almost everywhere in souvenirs shops here. Even more so when Wendy told me that it was also sold in our International airports.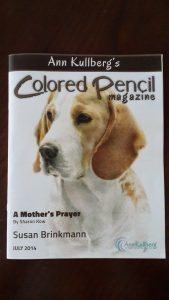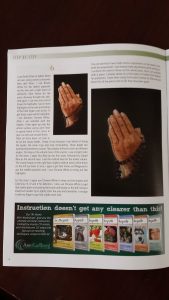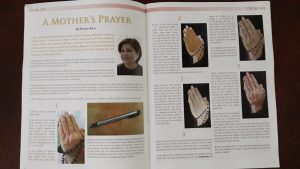 Around end of May this year, Ann Kullberg send me a message through face book asking whether I was interested in doing a Step by Step for her July 2014 Colored Pencil Magazine issue. She specifically requested for my piece, "A Mother's Prayer". Oh my, was I over the moon!! Ann is a very well known accomplished coloured pencil artist world wide. She had published numerous books on coloured pencil techniques and also gave lessons online and classes on board of cruise ships.
All these I would have never expected it to be. It is not just by sheer luck but involved a lot of interactions with fellow artists and people who appreciates art. And of course, lots of hard work in improving my art, sheer determinations to challenge myself further. With what I have achieve so far, I am even more determined to do even better. I am not so much into selling my art but more of personal accomplishments. Of course, if my art could sell well, it will be even better. I do not want to be stuck in a scenario where I do art for the sake of money. I want people to appreciate the art that I do, to really like it to purchase.
I am thankful to have wonderful supportive parents and husband, who have been so encouraging since I started. My late father who had been my rock and my number one supporter. My mother who always gave me the courage to pursue whatever I wanted. My dear husband who has been supporting me financially so that I could concentrate fully on my art and who is also very generous whenever I need new stuff for my art, which does not come cheap.
I will be doing a joint exhibition with another fellow coloured pencils artist, Barbara Moore, on the 22nd of November this year. My main purpose of this exhibition is to introduce coloured pencil art to the local scene, to show them that it is at par with other known medium. I do hope more people here will see how versatile this medium is.
Wish me luck!