I have always love delicate English roses teacups, more like looking at it rather than own one.
Probably because I know I will be so afraid to use them. So when I saw this photo of the teacup (taken by Maureen Wong, our close family friend, on WhatsApp.) I knew, I MUST paint this and it will be a perfect gift for her. Her family have been, and still are very close to my parents. They have brought joy and much laughter to my mom and dad, were always there through good and bad times. They are  family to us.
So, to show how much I appreciates them, I decided to paint this, since this set of tea cup is hers,  it will be even more meaningful.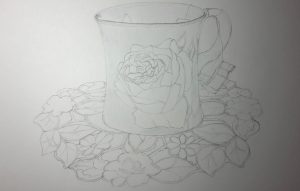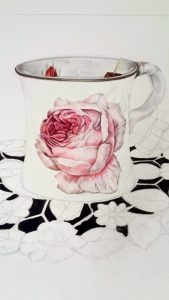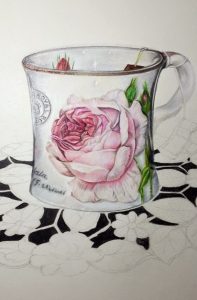 I have wanted to do it on a black paper but afraid that the whites will not look as white. So it was back to white paper. For this, I have used a 42x30cm, 300 gm hot pressed, watercolour paper and Faber Castell polychromos and Albrecht Dürer (watercolour) coloured pencils.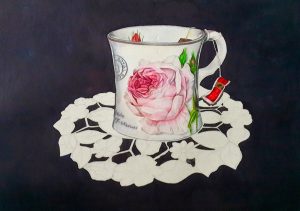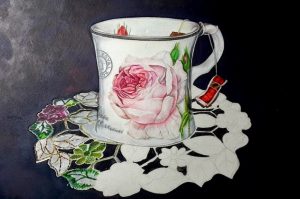 I have begun to use my Samsung Tab 7.7 instead of printing out reference pictures. Saves paper and also I could enlarge any part I need too, especially good for me who loves details. The only down side is that I would not able to use grid method for accuracy. So, you can see that all my paintings (except portraits) were freehand sketched.
With this piece, I've learnt a lesson. Never paint the background first, especially when using water coloured pencils because it smudges. I have to be very very careful not to smudge the teacup which was very white.
I want the background to be very dark, I have applied very thick layers of colours. If you look closely, you can see that it is not pure black. I have mixed in some maroon reds and purplish blues to make it livelier, rather than just plain black, which will be very dull.
The doily details were a bit of a challenge, especially the gold thread. Lesson learnt, gold coloured pencil don't come out gold. To achieve that colour, I have to use few colours such as yellow, orange, bits of yellow green, brown etc… It takes a lot of colours to make it look goldie.
Overall I am very pleased with this piece. It was sweet and a pleasure to work on. Well, just hope that Maureen will love and treasure this.