Now, this is an interesting painting because 'Spike' is my baby.
He's an English bulldog that we got from Bangkok, Thailand 4 yrs ago. Hubby was pestering me for painting of his favourite 'son'.
That's a tough subject, to paint a dog? at my level? not really confident but heck, why not, the most I could just tear it off if it doesn't look like a dog.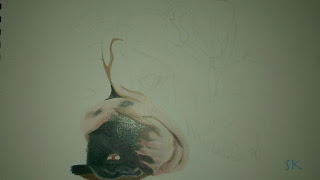 Took me 5 days to complete, at every stage I was, ahem!.., amazed that I could do it. The colouring was ok but the worse part was the individual hair details that got me all tensed up. I've learned a lot of this technique through You Tube cp tutorials, it helps! Needless to say, I was & still very proud that I achieved the likeness of dear Spike.