Looking at this, I am quite sure many of you may wondered why I picked this subject matter. Eaten corn cobs???
Why?
Well, let me tell you the story…
Firstly, let me tell you that this subject was not planned. Never crossed my mind to ever want to draw corns, what more, eaten corn cobs. Come to think of it, it is quite yucky to want to draw an eaten corn cob.
One weekend during the covid lockdown, I got so bored of cooking and decided to steam some corns for lunch. While we, the husband, the daughter and myself were eating it, I noticed something pretty fascinating.
I was staring at the both of them and really observed how they ate their corns. It was messy!! I thought there is only one way of eating corns on the cob, by eating each and every kernel!
But not them.
Excitingly but calmly….., I 'warned' them not to throw away the cobs. I will be doing a project with it. Oh, the look of my husband's face were priceless!

Happily, I collected all three cobs and started photographing it immediately. Yeah, then I threw it all away.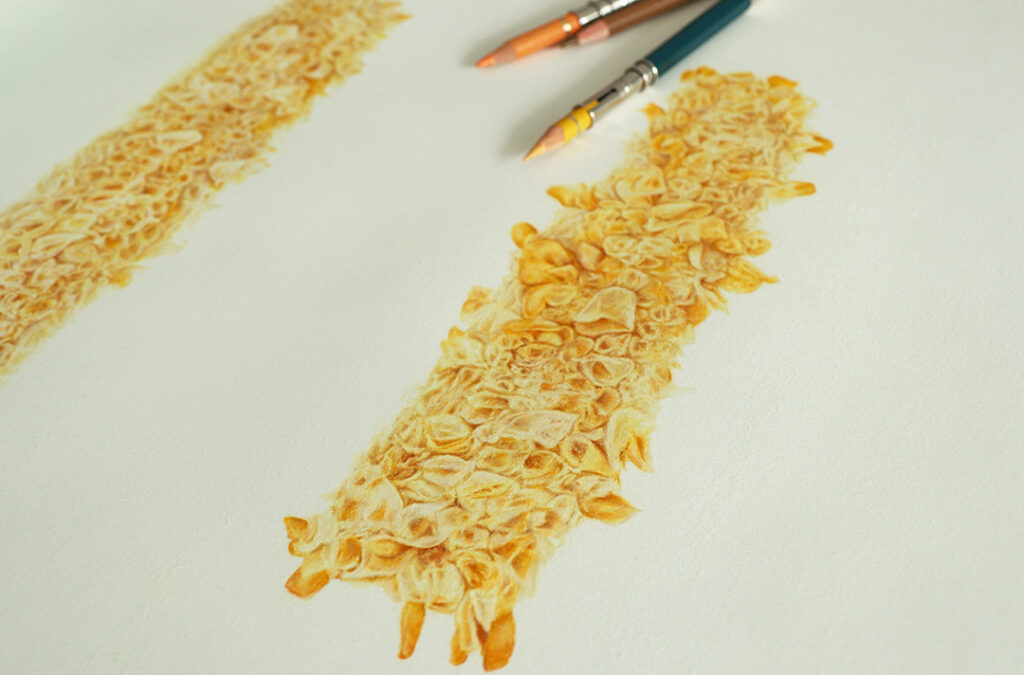 I begin surfing the internet, looking for some precedent or example on the subject as an art form, eaten corn cobs. As I suspected, none came up. Hmmm…. interesting.
While I did not find any art images on that, I found that there is in fact, several studies done on the way a person eat their corn. And they were done by psychologists. Kid you not!
They likened it to the Rorschach test. A kind of toothy imprint of the psyche, a revealer of truth. The consensus of several psychologists who study eating behaviors is that there are three primary eating styles: the typewriter, the rotary and the hunt-and-peck method. https://www.latimes.com/archives/la-xpm-1995-09-04-ls-42202-story.html
Interesting isn't it?
By doing this particular subject, I am not just 'showing' how an eaten corn cob looks like. It is much more that that. Just by looking at these three, I think you could roughly guess that person's character.
I won't reveal which one is mine, my husband or my daughter BUT I know!!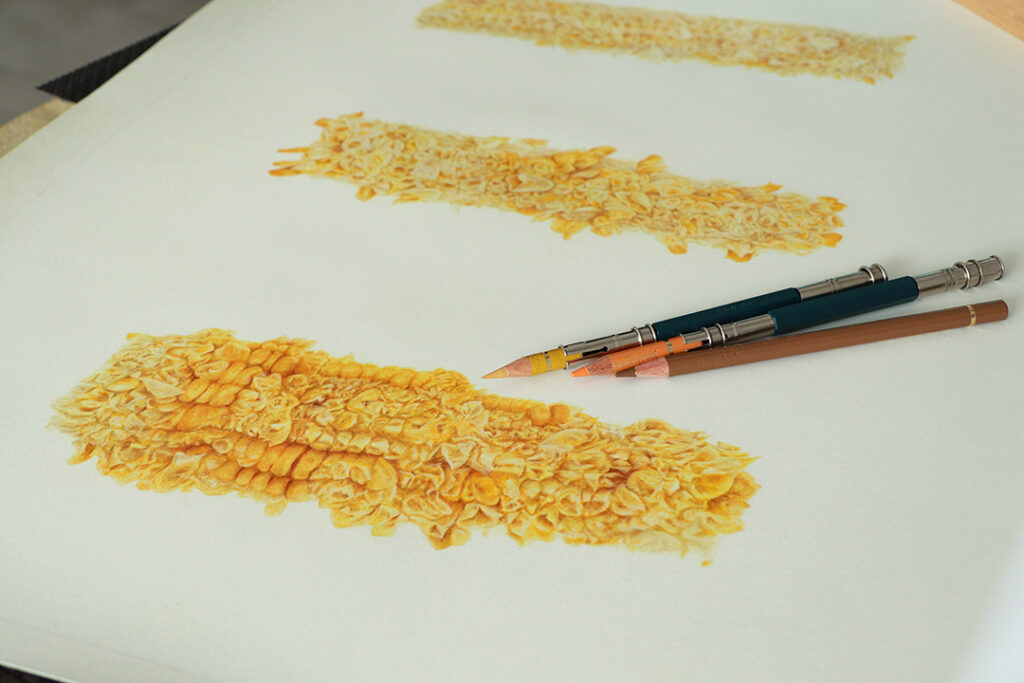 The process of this artwork:
This was done on a 24×19 inches (61x48cm), 300gsm (140lbs) hot pressed Arches aquarelle paper. Using Faber-Castell Poplychromos colour pencils.
I took my time with it as it was a very different subject from my usuals. It is bright with lots of yellows, super bright! My eyes need a lot of break from it.
Details wise, I am not too particular with this. I focused more on the message that I want to get through. It has to be able to prompt viewers to really look and question it.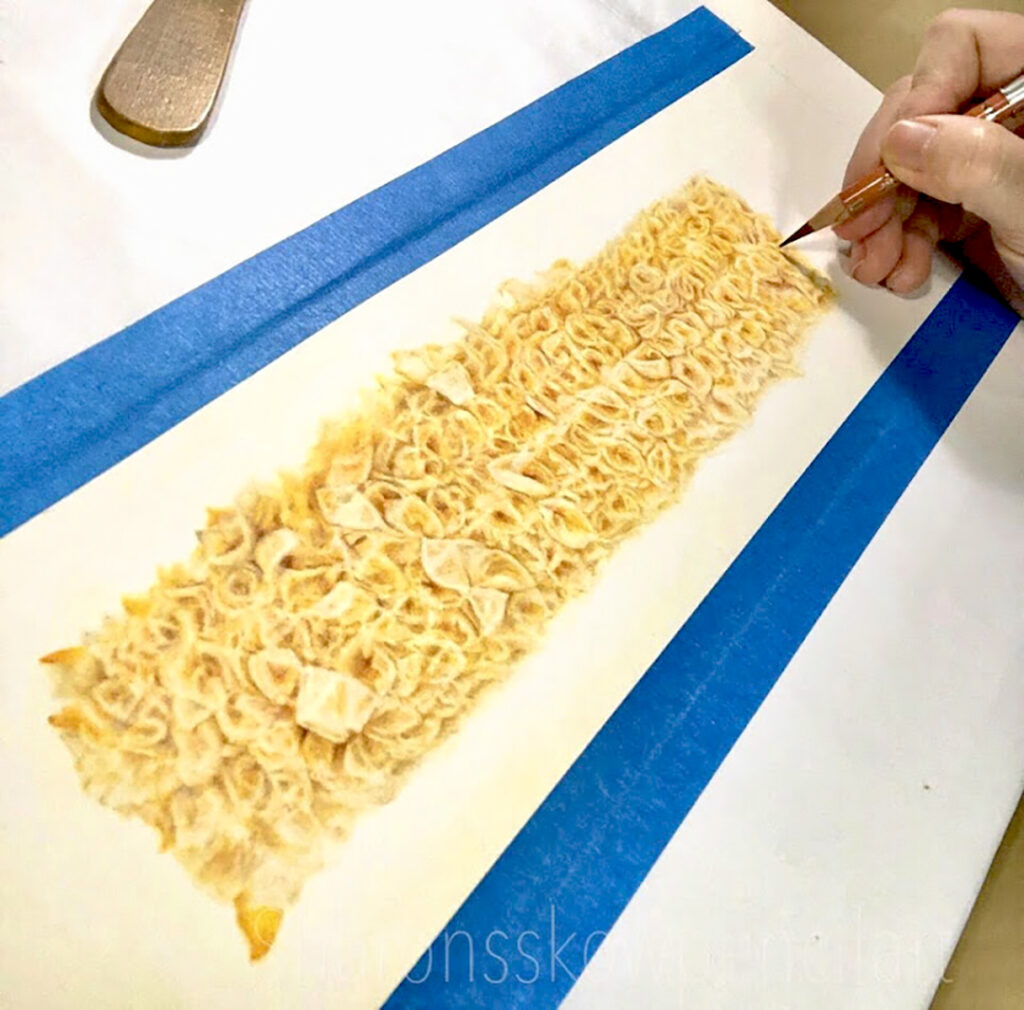 Apart from revealing a person's character, it may also be interpreted as a matter of opinion.
For example, a news or situation being interpreted into something else by several person. Something to that school of thoughts.
But whatever the outcome of the 'story' behind this, I will let you, the viewer, think about it.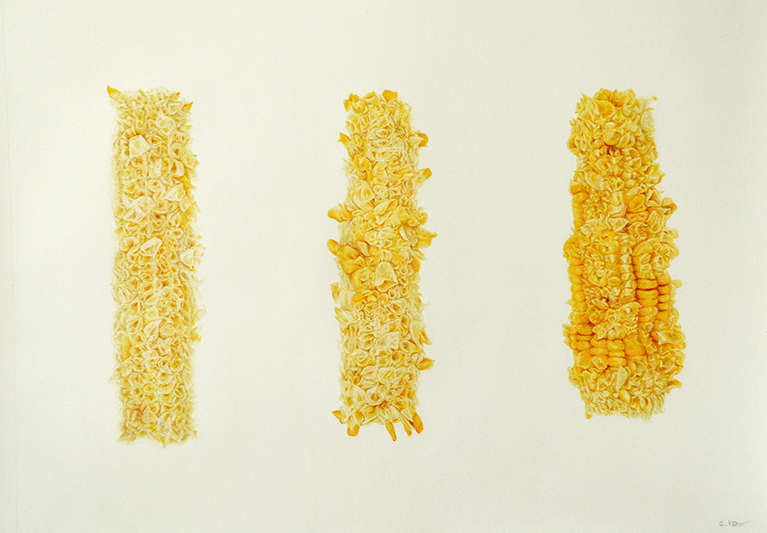 Oh, one last thing.

Next time, when you eat a corn or see someone eating a corn, observe and pay attention to the cob. Let's see how good a judge of character you are.