WHERE sunshine flecks the green,
Through towering woods my way
Goes winding all the day.
Scant are the flowers that bloom
Beneath the bosky screen
And cage of golden gloom.
Few are the birds that call,
Shrill-voiced and seldom seen.
Where silence masters all,
And light my footsteps fall, 
The whispering runnels onlyWith blazing noon confer;
And comes no breeze to stir
The tangled thickets lonely.
– Siegfried Sassoon (1886–1967).  The Old Huntsman and Other Poems.  1918. 
This is something very different from all of my previous work. Landscape! Lots of green and green is the my fearful colour of all. The reason is because I find this colour very tricky, especially when it comes to realism art. It can turn out to be very cartoony or very rigid.
I got the inspiration when I was vacationing in Bandung, Indonesia last December. We stayed in a resort up on the hill, nestled amongst this breathtaking tropical rainforest.
One night, while having our dinner on the balcony of the restaurant in the resort itself, I saw this spectacular view. It was BREATHTAKING!!!!!!
It was raining, cold and very foggy. The spotlights on the balcony was shining brightly towards the forest surrounding the resort. The intensity of the green was so striking and mystical that I was spellbound.
I stood up and stared, trying to see further inside those thick foliage, to see whether I could spot fairies or some mystical beings. I was so lost in my own world that I totally forgotten that my hubby and daughter were waiting for me to order my dinner!!!!
It took me quite awhile to tell myself "Hey, why don't you take pictures of it and see if you can paint it with colour pencils." And I did just that, took several photos of it with just a mobile phone. The whole trip, all I can think was "I can do it. No, I don't think so.. Yes, I can do it.." I was already arguing in my head about my ability to translate what I see unto paper.
I knew from the start that this would not be a very detailed work. It will be some kind of impressionism mix realism piece. My idea was to focus on the colours instead of details.
Using Photoshop, I intensified the colours of the whole scene. I want that huge contrast between the light and the darkness.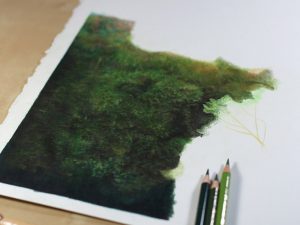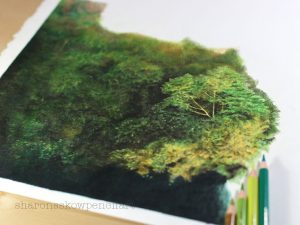 I did not do any pre-lined drawing as it was quite difficult for me to draw out every single detail. I just make sure that I get perspective right and dive in with colour pencil straight away.
And boy, those mixture of various shades of green was really tricky. There are complimentary colours such as yellow, brown, red, blue…. you name it!
The problem with colour pencil is that I cannot pre-mix the colours like the wet medium. I have to apply layers upon layers of colours and blend it. With this, I hardly use the blender pencil, which I normally do. Because of the intensity of colours, I just use the colour pencil itself to blend it all.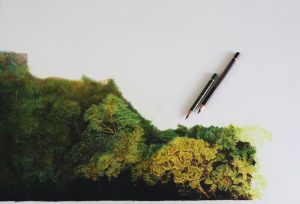 As for the textures, I rely a lot on the battery operated eraser and a bit of the Tombow Mono eraser. The battery operated eraser helps to lift off the pigment for highlights. Using normal eraser is not 'clean' enough because of the thick layers of pigments. By using various pressure of erasing, I am able to create not only highlights but also textures of the foliage
The background was done using 100% dry method to get the textured look. The black is not what it looks like. It is not pure black but many different colours underneath it.
It was pretty much monotonous and boring process but then, I cannot take it lightly. I have to be careful to makes sure that the pigment penetrate every groove/tooth of the paper.

It took me about 2.5 weeks to complete and I guess I am quite satisfied with the outcome. Now, I can proudly say that I conquered my fear of working with the colour green.
The response I received on this piece varies. Some were surprised that it was a total turn around from my usual work. Some saw a message from nature, especially those nature lovers. Some find it a bit spooky…. Hah! I love the response and feedbacks.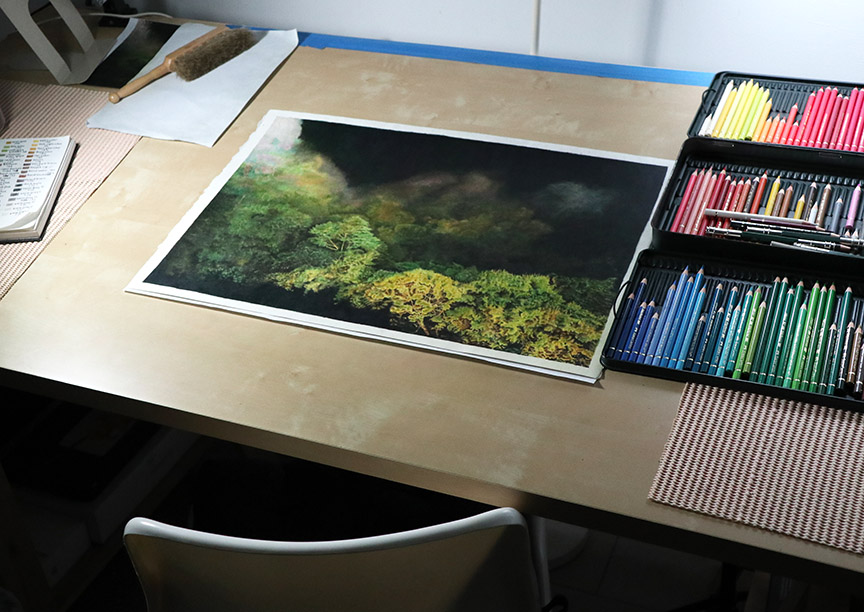 To me, it awaken my spiritual sense. I felt the presence of higher being, GOD, to those who believe. No matter how great or smart we think we are, we are insignificant compared to mothernature. It has been here for eons and we are only guests in the present.
Will there be more of artwork like this from me? Hmmm… Maybe…