Shard- a piece of broken ceramic, metal, glass, or rock, typically having sharp edges.
This  4th and final piece of my "Time" series showing all the dismantled parts of the clock haphazardly 'dumped' in the casing of the rusted clock. It depict the end of a life span, end of time.
This series, from the beginning to the end, is a metaphor of a person's life, starting from the time when we begin to slow down physically and mentally till the end. Harsh it may seem but it is a reality. Aging is not something that people like to discuss nor talk about, but I beg to differ and that is why I chose this subject.
I have always enjoy listening to golden ager reminiscing their pasts. The faraway look on their faces when they talk about their past fascinates me, it is like watching a movie, all in my head. I learned so much about that person and in turn,  I am learning from them.
How we choose to live our lives IS all up to us. Time is just time, it is what we make out of it that matters so that when we look back in time, we know, we have done our best.

After all 3 pieces with full rendered background, I decided to keep the last piece clean and simple, focusing on the detail of the mechanical parts. When put these 4 pieces in a row, it shows the progression from gloomy at the beginning and lightness towards the end. How a person interpret it is how he/she sees their lives.
The process:
This piece was done using Faber-Castell Polychromos colour pencils on 300gsm hot pressed Arches Aquarelle paper. Derwent pencil blender, electric eraser and Tombow Mono eraser.
I thought after working on all 3 pieces, drawing the gears will be easy but it was not. But I did not let it bother me. Everything is not super accurate, just an out line.
Once I got the colours in, it was much easier. I focused on the value rather than the accuracy of every curves and lines and that is the trick.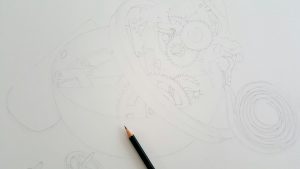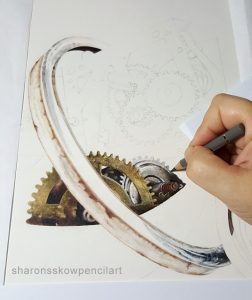 There was a lot of lifting of colours with the electric eraser at the rusted area, by doing so, it gives a sense of depth.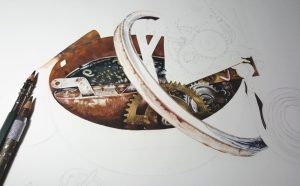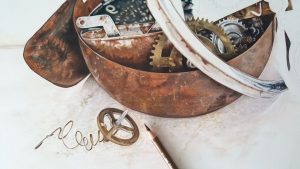 The most testing part was the shadowed area of the casing. It needs to be subtle yet visible with textures showing through. If it were just a shading, the end result will look like an afterthought and that is a big no no for me after spending so much effort working on the details.
One may think that I will be so sick and tired looking at any mechanical/mechanism subject after these but surprisingly, I am not.
In fact, I may do another one but not so soon. What I need is to take a break from these almost monochrome colours and do something with vibrant boisterous colours and that, is next in line.