Pluralism has such vast meanings. In a simple explanation, it means "the condition of being multiple or plural."  
My interpretation of this painting is based on 

Sociology,

 

the

existence

in a

society

of

groups

having

distinctive

ethnic

origin, 

cultural

forms,

religions,

etc.  

A condition in which numerous distinct ethnic, religious, or cultural groups are present and tolerated within a society.

A bit deep, I guess,  but this idea or vision came to mind because of all the "hoo-hahs" going on everywhere in the world since the last couple of years. In my work, I want to relay the message that when everyone, irregardless of race, creed or culture, shapes and sizes decide to unite and put their heart and soul together, this world can be a beautiful and harmonious place to be even in time of chaos.

These rock pebbles represent we as individual, some are very difference, some similar but never alike and so on, you get the picture. Take a closer look at all the individual rock, you see so much going on inside, the colours, textures, good and not good… So is the background, it is dark but yet if you look closer, it is rich with multitude of quiet colours. It means nothing stay bad or bleak forever, it is all up to us to decide on the outcome.

If we stand by ourself, solitary, we are vulnerable. Whatever beauty or cause that we want or fight for does not resonate as much IF we unite.

And that is my sentiment….

The process.

36 x 36 inches (91 x 91cm), 300gsm hot pressed Arches watercolour paper. Faber-Castell Albrecht Durer (black/wet) and Polychromos. Own photo reference.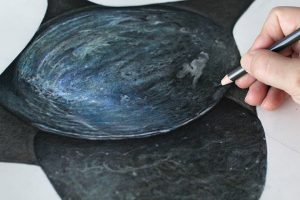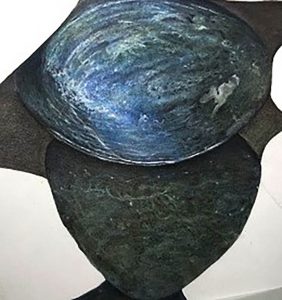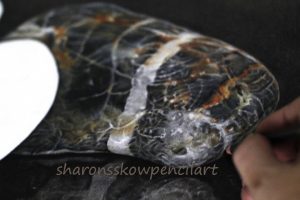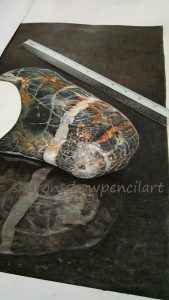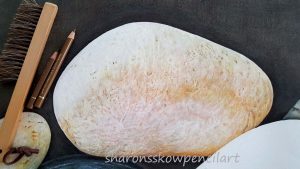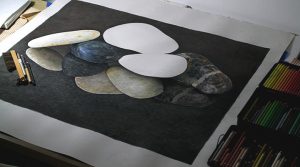 It was a joy in creating this piece, technical wise, I have learned a lot. In terms of how to make it shine and create textures that one could almost feel. The idea is to make every individual rock come to life, shine but not over-powering the others.
Just like us humans, we need not compete with each other, we are unique in our own special way and this uniqueness is put to use along with others, we are powerful as a whole.