Seems like a long time since my last blog and this is the first time that I am blogging from my website.
After the exhibition with Faber-Castell Malaysia in April this year, I have been cooped up at home working on paintings for the Langkawi Art Biennale 'Exploration" 2016 (LAB 2016), which will take place from the 16th – 23rd November 2016 in Langkawi, Malaysia.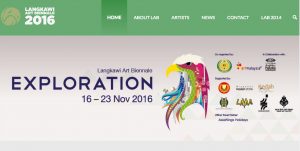 LAB 2016 will be a milestone for me and also coloured pencil art, locally, if everything goes well. This exhibition really pushes my boundaries as a colour pencil artist as I have to produce paintings at the size from 24 x 24 inches (60 x 60cm) to 36 x 36 inches (91 x 91 cm) huge. A very big feat when using solely dry medium. Tough, but it is a good try.
All the complete paintings for LAB 2016 can only be revealed during and after the exhibition and that is why I have not been updating my website and social media with new work.
As you know, from the very beginning when I started to pursue coloured pencil art,  I have been working diligently to achieve the signature status with the Colored Pencil Society of America (CPSA). CPSA International is a juried event of juries with esteemed background, prominent well known artists, gallery owners and such. It is a very fair competition because none of the juries are in anyway related to the organisation. To achieve the signature status, the artwork of the artist have to be selected and appear in three CPSA International Exhibition within ten years.
In May this year, I have achieved one of my goal. I received my signature status on the 29th July 2016 after my submission to the CPSA International Juried Exhibition were accepted in 3 consecutive years. It is a privilege to be the first colour pencil artist from South East Asia to get that status. Truly a huge achievement for me.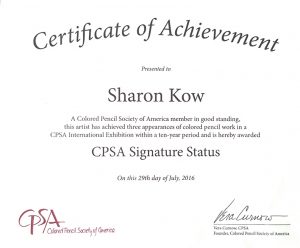 Another wonderful news that I have received on 31st August 2016 was the acceptance of my submission to the North Light Books' 2016 Strokes of Genius 9.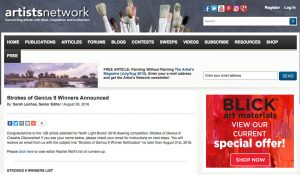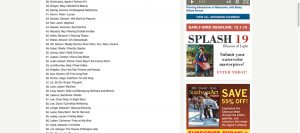 This acceptance meant so much to me. To be amongst 128 artists selected for this publication is really a huge deal. I cannot wait to see all the stunning work by so many international artists, some are friends and acquaintances that I have met and known from social media.
I used to browsed these books way back before I started painting and I was totally fascinated by all the work that were published. I have even bought a couple of the book just to inspire me and told myself that one day, I hope to see my artwork published in it. And this year, my dream came through.
All in all, up to today, 2016 has been quite an up and down year. I had my fair shares of highs and lows, hopes and disappointments. Some did made me sulked and being a pain to my family but I managed to get over it. Perhaps it is because as I go along, I wanted to do more and I believe I am going too fast. I have to slow down a bit and keep a level head with a very clear mind. I need to always remember why I do what I do, it is the joy of seeing my creation come to life with colour pencil and that matter most.