It has been quite a hectic couple of months since I got home from my trip to the United States, attending the Colored Pencil Society of America (CPSA) convention in Atlanta,GA. I have not been posting any work on social medias but it did not mean that I am not working.
Immediately after I got home, I received the news that I am one of the 12 selected local artists for the Faber-Castell Malaysia Inaugural Art Exhibition which will be held sometime in March 2016 in Kuala Lumpur, the capital city of Malaysia. Faber-Castell Malaysia took the initiative to organise this art exhibition not only to amplify its brand image amongst art enthusiasts but also to highlight the pool of local artists that exist locally and also to provide local Malaysian artists a public platform to showcase their works. They aim to ultimately make this exhibition a highly anticipated annual event.
This whole idea came about when Mr. Aerix Siah, the Premium and Retail Manager of Faber-Castell Malaysia came and supported The Fine Art of Coloured Pencil Exhibition which both Barbara Moore and I did in November 2014. They  have been more than supportive of our exhibition and have been keeping in touch with us since.  Many thoughts and ideas have been put into how they can help and assist local artists by giving them a public platform and also create public awareness on how colour pencil could also be a recognised medium in the fine art circle. I considered we, the  Malaysian artists, to be very fortunate to have such a well known established company to organised such event. This is a dream for many artists, especially colour pencil artists all around the world. I do hope my fellow colour pencil artists out there will get the same opportunity too.
For this exhibition, Faber-Castell Malaysia will select 3 art work from each artist to be exhibited and all artwork has to be kept under wrap, only to be revealed during the event next year.

In the meantime, while I was busy going through all the Faber-Castell Malaysia's agreements and stuff, I received a surprised email from Ann Kullberg of the well known Ann Kullberg's Color Pencil Magazine that I am one of the chosen contributing artist for her upcoming book "Draw Portrait in Colored Pencil", a step by step portrait bible from 30 International colored pencil artists. It will have 175 pages which includes 13 complete portraits by well known coloured pencil artists, 17 step-by-step demos of specific portrait elements by contributing artists.
Well, I am no portrait artist but had only did a couple of portrait as practice. My part as a contributing artists, I am doing the HAND. I had to start from scratch and it was such a pleasure hiring someone to be my model and drawing it. Perhaps one day, I will get back into drawing and painting portrait. This is major for me, to be included and to be amongst these talented portrait coloured pencil artist is a DREAM! This book will be out by February 2016.

Then, in the midst of doing my 'homework' for the portrait book, I received another email from Ann announcing that my portrait of Sugar (my bulldog) "Contemplation" was selected to be one of the featured piece among 80 selected artwork for their "Colored Pencil CATS & DOGS" book. There are 50 featured artists and 30 contributing artists altogether. As featured artists, we have to share our techniques, inspirations, tips and advice on our selected work. More work but I am not complaining!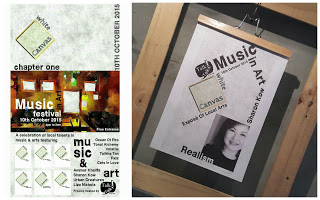 While I was away in the U.S., I received a message on my FB page asking whether I am interested in participating in an art & music inaugural festival in a jazz club. Jazz club? Coloured Pencil Art? Hmm…. I later found out that this guy, Kelvyn Yeung, is a musician and one of the lead guitarist in the local up and coming band. He and his friend, Gerald, the owner of the Talk-Talk Wine Bar and Lounge, came up with an idea of hosting and promoting local music and art talents in Penang. It is to be a mini festival as a platform for local born, bred or based musicians and artists to showcase their undiscovered talents.
I did asked Kelvyn how he came to know about me. He said that he was browsing through FB and saw someone shared one of my art piece and he was surprised that I am a Malaysian and living on Penang island.  I could not thank him enough for taking an interest in my art work and inviting me to be part of this lovely festival.
The event was held on the 10th October and  it was a blast! I met so many talented local musician and artists. All I can say that it was such a surprise to received an invitation by a local. I did not think that my work were noticed over here. It was a nice feeling to be acknowledged by these energetic, creative young people. I received quite a bit of curious onlookers with my art work that night and it felt great telling them that it is coloured pencil and their reactions to my explanations was priceless.
NOW, the most anticipated event of my life is this, Langkawi Art Biennale 2016 (LAB2016). Langkawi Art Biennale held their inaugural event in 2014 (LAB2014) and it was a big successful event endorsed by 250 artists and sculptors from 38 countries where all of them congregated in the beautiful island of Langkawi with their creative contributions and exchange of cultures through art. This whole event was organised by ArtMalaysia Association and supported by the  Ministry of Tourism and Culture Malaysia.
I was sort of 'discovered' by the Vice President of ArtMalaysia, Mr. Liew Kian Yap, who is also an Art promoter and collector.  I came to know about ArtMalaysia last year when I wrote an email to ArtMalaysia, inviting them to the opening of my exhibition. I would say that I was very bold in approaching such an established organisation but I felt that I have nothing to lose. Mr. Liew was kind enough to reply my email but unfortunately he was very tied up with the LAB2014 (at that time, I have no idea what it was) But for him to acknowledged and replied to my invitation was good enough for me.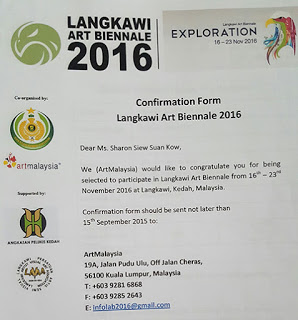 It was after couple of months later, he contacted me personally, wanting to see my art work as he was very curious to know about colour pencil art. We met up early this year and I showed him a couple of my original art work. We got on talking about the medium and after scrutinising my work very very closely, he said that it may have potential and proceeded to asked me how serious am I in pursuing my art, will this only be a hobby to past time or am I going all out to make it a career? Of course, I told him that I am all out with my art and I am definitely doing it as a full time job. I assured him that I take my art very seriously and that was why I concentrate in exposing my art outside of Malaysia because no one here take me seriously. I told him all about my experiences with my colour pencil art  and why I concentrate in taking my art out of Malaysia, he said that he is willing to  promote me as a Malaysian colour pencil artist by giving me a platform in the LAB2016.
This will be the first time here in Malaysia that a mainstream art event will showcase colour pencil art work and I am extremely honoured and fearful at the same time. This opportunity do not come easily and I will grab it by hook and by crook and do my very best. I will have to produce 3 pieces of colour pencil art work, measuring at 24 x 24 inches (2 pieces) and 36 x 36 inches (1 piece). It is a huge challenge doing these big pieces and it really pushes my boundaries and I am going all out.
All the artwork for Ann Kullberg's books, Faber-Castell Malaysia and LAB2016 could not be revealed until the launch and event itself. I am bound by contracts not to  publish all of these work on any social medias and that was the reason of me being very quiet. I have so far completed all Ann Kullberg's pieces for the publications and also Faber-Castell's exhibition. Still working on my 2nd and 3rd pieces for the LAB2016, which is to be submitted by end of December 2015.
Looking back I realised how much I have achieved in a short time since I started in 2013 but it was not without a lot of hard work and making good use of social medias and not forgetting, being brave. I had my shares of rejections and disappointments but it did not stop me from moving on. Perhaps, with age, I learned to be more patient and much calmer compared to my younger days. I believe age is not a hindrance and passion in what I do that kept me going.It has been quite a hectic couple of months since I got home from my trip to the United States, attending the Colored Pencil Society of America (CPSA) convention in Atlanta,GA. I have not been posting any work on social medias but it did not mean that I am not working.