This is not a good photo of my art work, it is not sharp enough and the colour, compared to the original, it is slightly off, but I guess it will do. I am so not a technical person when it comes to any type of gadgets. I will have to wait until I get it properly scanned by my framer.
Bougainvilleas is a very common flowering plant in South East Asia. We have it along the highways and almost every street in town and residential areas in the whole country. It is something we Malaysian takes for granted.
This breed of bougainvilleas that I have painted is a mixed breed, made popular in Thailand. It is a hybrid of various types of bougainvilleas. When it blooms, you can see all kinds of colours and they bloom in huge bunches. Especially when under blinding sunlight, it practically glows!
 My neighbour, on the opposite side of the road, has a huge plant of bougainvilleas and it was sometime during early April this year, those flowers were blooming non-stop. Every morning when I am having my coffee in my dining area, which sat facing directly at my neighbour's garden, I will see those beautiful flowers. When the morning sun hits, the multicoloured bougainvilleas were breathtakingly gorgeous. It is kind of weird to say this but whenever I was looking at that scenario, I felt blessed and thankful, I had the feeling of gratitude. Then the idea hit me to do a painting out of it, why not? The trouble is, I rarely paint flowers, I did a couple last year, but it was only white flowers and very minimal.
So before the flowers wilted, I went over to my neighbour's house and asked for her permission to take photos of her flowers. After taking about almost ten shots, I narrowed down to a couple and Photoshopped it. This reference photo is the original without any editing. The colours are warmer and quite spaced out. This bunch of flowers was originally the top part of the plant but I rotated the picture to the right to get  the cascading feel. I then use photoshop to further darkened the background and highlight the flowers.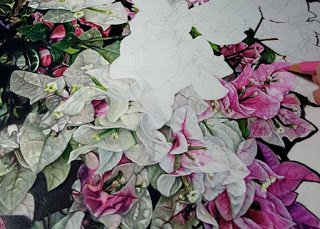 The idea to blackened the background is to give focus only on the bougainvilleas. I did each individual flowers with extreme detailing. I tried to do as many veins as possible but if I ought to do that, it will take me another week or so and also, it is way too tedious.  I did as much as I possibly could until the paper could not take the 'torture' anymore.
I used my all time favourite, Lanaquarelle water colour paper. It is a hot pressed, 140 lbs (300gm) in weight. Using another of my favourite Faber-Castell polychromos colour pencils. Polychromos is extremely good with doing fine detailing. Colour wise, not as vibrant as the Caran D'ache pablos but it is good enough. With the pablos, I could get even vibrant colours but when it comes to details, it would not be as good as the polychromos because of its wax based.
I did the initial free hand sketch using the grid method with a graphite pencil, like I always do on all my paintings, then I will begin from the left in order to keep the other area of the painting clean.
For the background, I first layered the Dark Indigo  and then only apply the Black. This to give it  depth or else, the black itself will look very flat and dull. I have also used some Magenta and Dark Red to give variation in depth. It cannot be clearly seen in the photos but on the painting itself, it shows a difference.


It was really fun to work on the colours. I have never used so much the purple and pink in any of my painting except as compliment colours. Surprisingly, it brought out the 'girly' girl in me.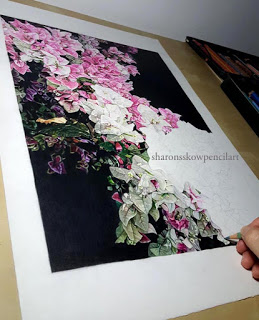 The toughest part of all was the white flowers. I have to be very careful and gentle with the use of colours. I used a lot of Warm Grey to bring out the white, a touch of Light Green, Light Flesh, Light Magenta and Cream on the white petals to give it a slight iridescent glow. Then go over it with White. I have to do this over and over again to get the paper thin feel to the white petals.
You can see from the photo below that I have a printed black and white picture of the reference photo. Why black and white? It was to see the value, the contrast of the main subject and background. It is essential in any paintings and also photograph to have a good sense of value. Even if one is not into detailing, a good composition on value will attract viewers to focus on what the artist wants them to see.
 I downloaded all my reference photo to  my Samsung Tablet and use it instead of printing it out on a paper. By using the Tablet,  I could enlarged any part to see the details. And also, printing high resolution photo on a normal paper is a waste of ink and money.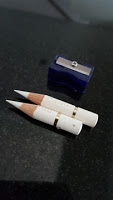 Overall, this painting took me quite a while to complete. It took me almost two months where I think, if there was no interruptions, I will be able to complete this in 3 weeks' time, working on it for about six to seven hours a day. It was both pain and joy to do this painting of bougainvilleas. Joy is when I see the beautiful colours came to life. Pain is when I started to lose patience with the details. I can be very hard on myself because I want each of my painting to be perfect in my eyes, which often were not. Even this work, I felt that I could do more but sadly, the paper could not withstand the abuse and so I have to give up. Poor paper and and poor pencils too….!!
Now, the title "In the Light". Initially I thought of something in the line of gratitude, thankfulness but could not really find a suitable word to convey my feelings.   "In the Light" is a common word but yet contained such deep meaning. It can be light from the sun to some but to me, it is a realisation/consciousnesses of Mother Nature, how I took the beauty of nature for granted. Too busy with my own things, too selfish to stop and smell the roses, so to say.
When I saw the beauty of the bougainvilleas from my dining room, I was in awed, I was at peace and I am grateful for what I have and what I am today. No human being could replicate and no money in the world could buy such sublime artistry. I tried my best to convey it in my painting, to capture that moment and I hope I did it justice.