Ms. Pearly, what a befitting name for this horse.
I took the picture of her in her stable before she was groomed.  What captured my fancy is her playful character, she looks so adorable in a mess.
This is how I start my work.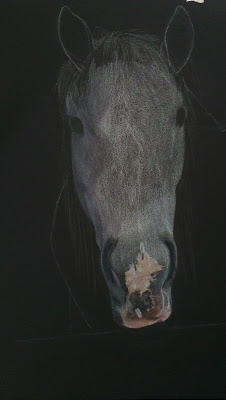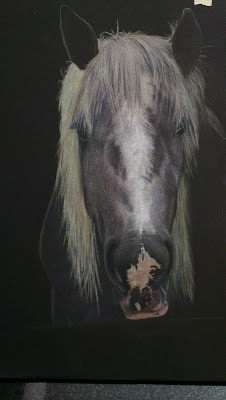 It will usually takes me around 2 days to sit in front of a chosen blank drawing paper. Why 2 days? That is because I am at lost as to where to begin. I will just sit in front of my work desk and stare at the reference picture and imagine the sketches in my head. Once I got tired of staring, I start sketching the outline, always a lot of erasing, re-sketch and so forth.
Now, for cp painting on black paper, I have to use the negative effect. Means that I have to layer the whites before I actually use the intended colours. So you see, I have lots of white cp for spare.
This picture 1, I am very pleased with her muzzle because it turned out to look pretty real. Had a bit difficult time balancing her nostrils. When met with difficult section, I will move on. Leave that trouble patch and go on with the next thing, so that I would not get frustrated.
Now the mane should be easy but it is NOT. I can get too carried away with the strokes. And to get the right colours is tough. (Maybe should upgrade my glasses) I'm ok with her coats, cannot really go in detail stroke because her coat is very short. So what I did was lots of burnishing. In this painting, wax build up actually helps because it gives that patchy texture on her coat.
I can just finish my painting like this, without the background, it in fact will give a mysteriousness of the whole thing. But I want to try the blurish background effect which I have done earlier with the ladybug, which is not up to my expectations.
Now, in picture 3, the background is almost there. Quite happy with the outcome. I think I did pretty well with the blurish effect.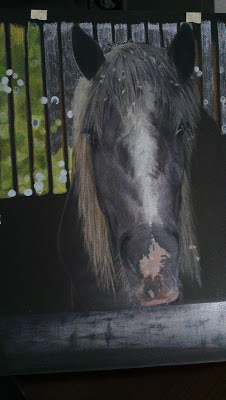 The most difficult thing in this whole painting is the pole, below her muzzle. It is silver with rusted teeth bite marks. I spend quite a few days trying to get the right colour and it was killing me!!!
But hey, I manage to finish it, not too happy with the outcome but satisfactory, only… I think I could do better. But hey, not every piece will turn out great.
Cannot wait to start on my marbles piece!!!!