This is a piece that I put on hold for quite some time. I took this photo in a restaurant in Kuala Lumpur. The whole atmosphere of the restaurant was warm and cozy. I saw this huge pot of orchid beside the entrance and can't help liking the lighting that gave the orchids an enthralling overall. I captured this on my mobile and it turned out just as I like it.
As you can see, I enlarged the reference picture  to A4 for clearer definitions. I started off with free hand sketch. No grid this time as this is quite a free flow kind of piece with plenty of whites.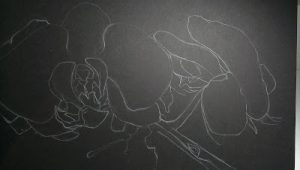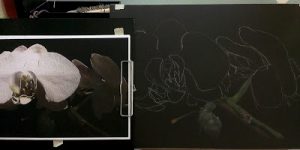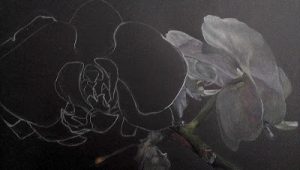 Now, this is the toughest part of all, the almost silhouette, transparent petals on the right. That's the main reason I chose a black surfaced paper. Eventhough it's supposed to be very 'quiet', it has lots of 'volume' to make it such a way that is almost disappearing in the background. It's not only whites and greys, it has some hints of green, purple/pink and yellow in it. Boy, it's driving me nuts!!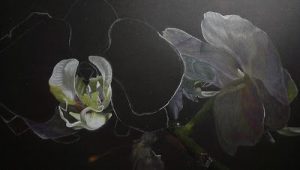 I almost gave up on this piece. Getting very frustrated and very very antsy, wanted to just tear it up and throw it away!!!
So I tell myself, hold your horses woman!! Let's divert the attention to the main orchid. But still, I have that very unsatisfied feeling, I just rush to do it just for the sake of doing it. Not liking the outcome at all. Took a break, went to my PC and post it on Colored Pencil Artists and Lovers on Facebook, a closed group site where there's this group of the great coloured pencil artist share and discuss about anything involving coloured pencil stuff.
Within minutes of posting this work in progress, I've got so many words of encouragement from so many artists including those who are already so established in this line, superb artists!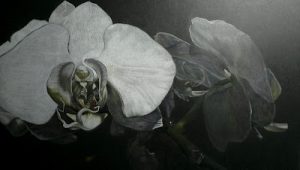 After reading all the encouragements I've received, I decided, what the heck! let's just do it, if it comes out horrible, then just keep it as reference, no need to get all hyped up. So that's the story of this piece and by the way, it's a fake orchid, that's why I titled it "MIMESIS" (/mi'meesis/noun in art or literature, the immitative representation of reality)